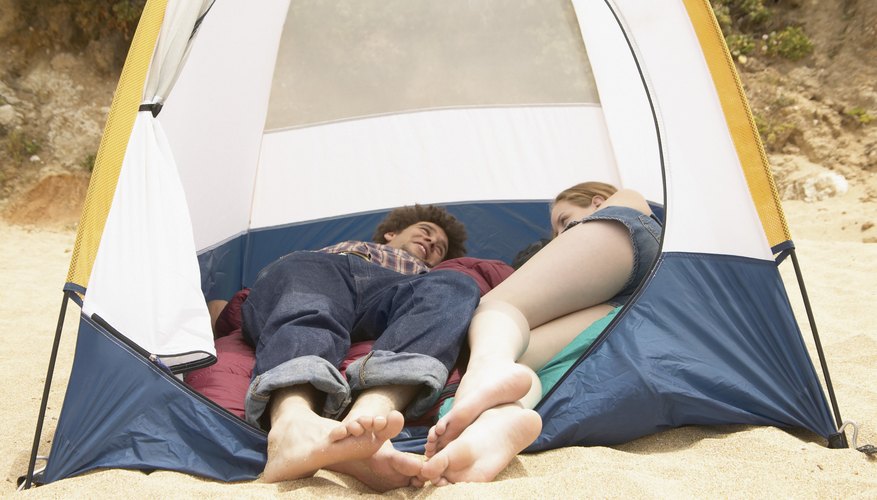 Not everyone goes camping just for the weekend. Campgrounds have become a place where people live all year long. Due to Florida's subtropical weather it is possible to live year-round in a campground. Some people choose to camp in the North in the summer and move their campers to Florida for the winter. However, there are many campgrounds in Florida where people have permanent campsites.
Year-Round Campgrounds
There are year-round campgrounds throughout the state; however, due to colder winter temperatures in the northern part of Florida, many people choose south Florida campgrounds. Consider the different kinds of campgrounds in Florida. State parks are open for camping all year, but permanent camping is not allowed. You will need to break camp and move to a new state park every 14 days. In some instances you can stay up to eight weeks in any one park if space is available. There are privately owned campgrounds where you can stay 365 days a year. RV parks and RV resorts are sometimes more like mobile home parks and tend to have more rules than a family campground. Many of the RV parks in Florida are limited to people age 55 and older.
Healthy Lifestyle
Camping year-round is associated with living a healthy lifestyle. Campers tend to spend more time outdoors in the fresh air because of the small living space inside most campers. Most campgrounds in Florida have heated swimming pools where residents can exercise all year long. Some campgrounds have water exercise classes. Bicycle riding is another common form of healthy exercise and, due to the lighted pathways in residential campgrounds, residents ride bikes in the cool evenings on the safe roads.
Benefits
The benefits of staying in one campground year-round are many. By not moving from campground to campground you are making a smaller footprint on the earth due to using less precious fuel. The savings on gasoline means you have more money for other necessities. Less wear and tear on your RV or camper is another benefit that will save you money. During the off-season many campgrounds charge lower fees.
Considerations
Living in a small space can be difficult for some people who are accustomed to having large homes. Getting by with less "stuff" due to a shortage of storage space can mean having to purchase things when needed that you would normally have on hand in a house. The close proximity to other campers means you should be able to tolerate seeing your neighbors often. If extreme privacy is important to you, living year-round in a Florida campground is probably not a good choice. Rules and regulations are a given at all Florida campgrounds. Anyone having a difficult time dealing with a list of rules to follow might not like campground living.
History of Florida Camps
In the early 1900s, some of the first "snowbirds" would come to Florida to camp in municipal trailer parks. They were called "tin can tourists" by the local people. Punta Gorda, Florida, was the location of one such municipal camp on the shores of the Peace River. Bradenton, Tampa and other cities were also locations where people lived in trailers and tents in the winter. Some cities considered these people to be vagabonds and put an end to camping in their municipal parks. Now in modern times, there are actual campgrounds where people pay rent to park a camper. They are no longer considered to be vagabonds and they can enjoy year-round Florida camping.
References
Writer Bio
Based in southwest Florida, Judy Youngquest has been writing and proofreading since 1980. Her work has appeared in "Growing Without Schooling" magazine and the book, "The Summer of the Storms." She provides travel-related content for LIVESTRONG.COM.