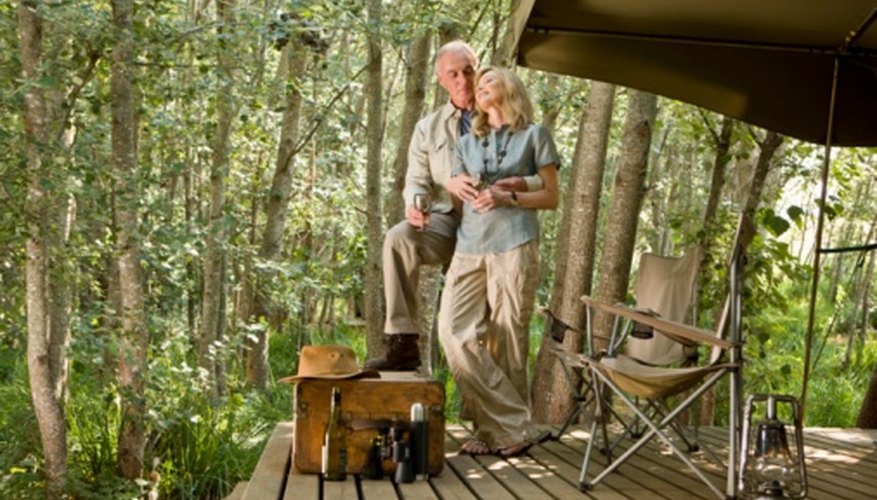 Alternative lifestyle campgrounds in Florida are not widely advertised, for security reasons. You must join a private club, in most cases, to find locations and make reservations. Alternative lifestyle campgrounds are those that cater to a gay clientele as well as other alternative lifestyles such as clothing-optional. In some cases, gay campgrounds will also be clothing-optional, just as most alternative lifestyle camps will be open to gays and lesbians.
Clothing-Optional Campgrounds
Camp David, in Inverness, bills itself as "the only clothing optional men's campground in Florida." It is a private membership campground only, and is limited to men. Camp David offers RV and tent camping in a wooded location. The camp features three ponds.
Sunsport Gardens, a "Family Naturist Resort," near West Palm Beach, is one of Florida's oldest alternative lifestyle campgrounds, and has been in business since 1965. With RV, tenting and cabins in a tropical setting, Sunsport Gardens hosts regular dances and nature hikes. They advertise themselves as LGBT-friendly, open to all, "regardless of race, religion, gender, marital status, sexual orientation or disabling condition."
Gay Campgrounds
At their best, Florida's alternative lifestyle campgrounds provide a safe and relaxing place for gays and lesbians to congregate and unwind. The Compound, a gay "camping club" on the Emerald Coast, near Pensacola, is one of the most popular. Only campers 21 and older, with an active membership, are admitted. Available for private parties and commitment ceremonies, it is also clothing-optional.
Sawmill Gay and Lesbian Campground near Dade City is another of Florida's top LGBT gathering places, located on the banks of the Withlacoochee River, with over 100 acres of camp sites, hiking trails and a clothing-optional, heated pool.
Gay-Friendly Campgrounds
The Thousand Palms RV Resort in Wildwood, just off the turnpike on State Road 44, is listed as gay-owned and gay-friendly, but is not exclusively a gay campground and no membership fees are charged to stay there. The amenities include heated pool, hiking trails, golf and shuffleboard. Thousand Palms offers free camping to U.S. Service members between Memorial Day and Veterans Day, and five nights free if you pay for two. This benefit is offered to active and retired service members, and all veterans.
Rivers Edge RV Campground, on the banks of the Yellow River in Holt, Florida, also gives military discounts and is also gay-friendly.
Theme Weekends
Some of the most popular of Florida's alternative lifestyle campgrounds hold theme weekends, organized around Gay Pride events and so on. Reservations for such weekends need to be made months or even a year or more in advance, because they fill up quickly.
Southern Comfort Campground in Cross City, just east of Gainesville, holds theme weekends for every major holiday, with a few extra thrown in, such as Bonfire Weekends during the cool-weather months of March, April and May, and big weekends for St. Patrick's Day and Halloween.
Camp Mars in central Florida has a different theme every weekend, ranging from Country Music to Summer Camp/Autumn Camp and Deck the Planet, in early December.
Glossary
Gay-friendly means that a campground welcomes gays, although does not cater to an exclusively gay clientele.
LGBT-friendly indicates that a campround welcomes gay, lesbian, bisexual and transgender campers.
Clothing-optional means that nudity is the norm.
Members-only means that you must join a private camping group and pay dues before you can make reservations to camp in that particular campground.
References
Resources
Writer Bio
Betty Jean Steinshouer started writing professionally in 1980 with a weekly column in her hometown newspaper. She is published in literary textbooks and has penned articles and book reviews for magazines and newspapers. Certified in Teaching English as a Foreign Language, she has degrees in speech communication and English literature.