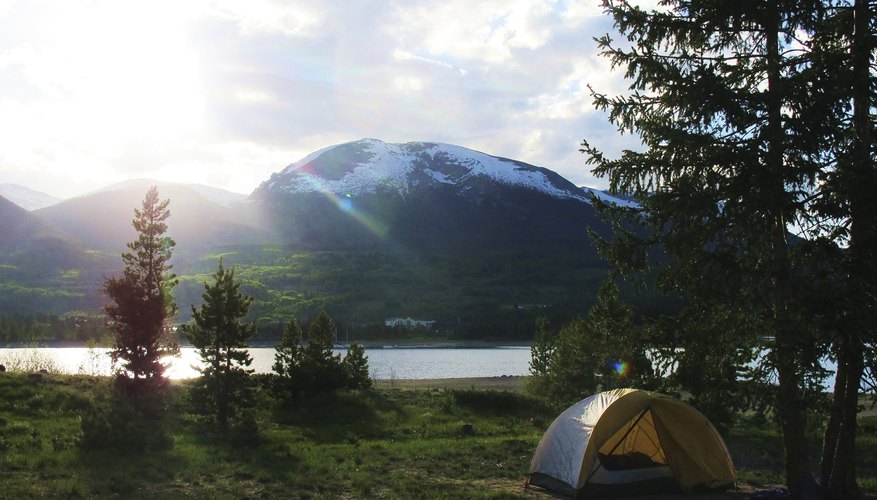 If you thought Texas didn't have any free-spirit types, think again. The Lone Star State is home to dozens of clothing-optional beaches, walking parks, campgrounds, RV parks, resorts, bed-and-breakfasts and nude sports clubs. Many of these facilities feature camping opportunities of varying levels of roughing it. The diverse natural beauty and warm climate of this gigantic state offer enough options to take even the most ardent naturist a lifetime to explore.
Types
In Texas, clothing-optional campgrounds are rarely just that. Often the campgrounds are situated near other arrangements such as clothing-optional resorts and bed-and-breakfasts. Clothing-optional campgrounds in Texas come in five basic flavors:
Adults-only: Here, the term "adult" should not be equated with "adult bookstore" or "adult film." The managers of adults-only clothing-optional campgrounds in Texas simply prefer there be no children present; such facilities strictly enforce the adults-only rule.
Family-friendly: Children are welcome at family-friendly nudist campgrounds in Texas. They must be accompanied by legal guardians.
Limited-stay: No long-term stays and no residencies.
Long-term residency: Long-term or even life-long stays are available at some clothing-optional campgrounds in Texas. However, people living in clothing-optional communities live in actual houses; the campgrounds, if any, are situated elsewhere on the property.
Hybrid campground/resort/residence: Some clothing-optional communities feature campgrounds, resorts, bed-and-breakfasts and other modes of temporary naturist facilities.
Culture
Texas naturists, on the whole, are a health-conscious bunch. They believe in the natural health benefits of all-over sunshine, improved blood circulation and truer homeostasis inherent in going in-the-buff. They tend to enjoy outdoor activities, which is why there are so many clothing-optional campgrounds in the first place. While clothing-optional campgrounds are often associated with hippies, lefties and pacifists, people who visit such campgrounds hail from all manner of cultural and ideological backgrounds.
Amenities
Most clothing-optional campgrounds in Texas have RV hookups, fireplaces and private campsites for folks who want to commune with nature au naturel. As with regular campgrounds, shared and private indoor bathrooms are usually available within short walking distance. Park monitors patrol the property to ensure the safety and enjoyment of campers.
Activities
Clothing-optional campgrounds in Texas feature a plethora of opportunities to get out and rejuvenate in the fresh air. Many facilities have extended nature trails winding through woods and along rocky beaches, swimming pools for soaking it up in the buff or playing a few rousing rounds of water volleyball, and other activities. Other activities and amenities available at clothing-optional campgrounds in Texas include lighted volleyball courts, lighted tennis courts, horseshoes, shuffleboard, darts, indoor gyms and dance hall nights. One Texas clothing-optional campground even has an annual motorcycle ride in and around the property.
Rules
The rules at clothing-optional campgrounds in Texas are usually very similar to any you would find at any public campground--for example, no dangerous behavior that would subject yourself or someone else to bodily harm, no littering, pets must be kept on a leash, no glass in the common areas and no firearms or fireworks.
The three rules most Texas clothing-optional campgrounds have that other campgrounds do not have are: no overt sexual activity; when sitting or lying down in a common area, use a towel (this rule is based on basic common sense and hygiene); when swimming in a shared enclosed pool, going nude is not only allowed, but often required. This is consistent with the nudist preference for avoiding human-made materials.
References
Resources
Writer Bio
Will Conley's writing has appeared in print and online since 1999. Publication venues include Salon.com, SlashGear.com, National Journal, Art New England, Pulse of the Twin Cities, Minnesota Daily and ThisBlogRules.com. Will studied journalism at the University of Minnesota. He is working on four fiction and nonfiction books.