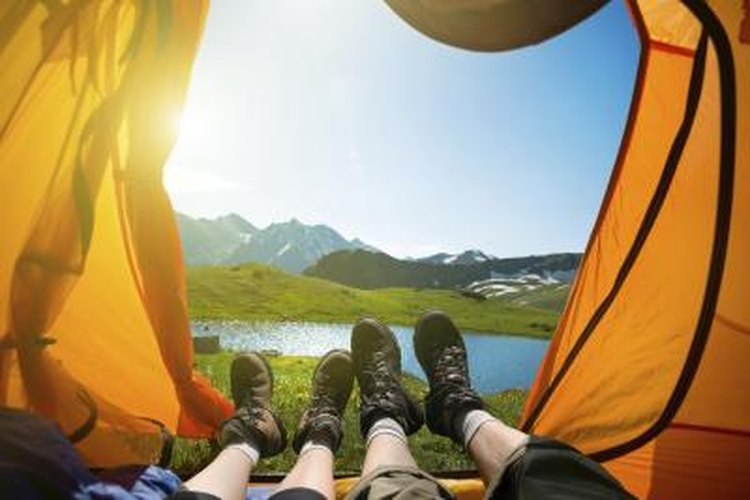 A couple's camping trip can turn any weekend into a romantic getaway. Campgrounds and national parks combine the breathtaking natural beauty of the wilderness with exciting hikes and activities for all levels of experience. With a little planning and the right equipment, you can bring romance to your outdoor adventure.
The Perfect Campsite
Help your partner unwind at your campsite by bringing a few luxuries you wouldn't normally consider for backcountry camping. Thick, comfortable sleeping mattresses, a larger tent, and camp amenities like a cooking kit and camp furniture can turn your campsite into a home away from home. These luxuries keep you comfortable so you can focus on spending time with your significant other.
Dinner for Two
A romantic meal can make any camping trip feel extravagant. Some foods like hard cheeses, summer sausage, crusty french bread and olives travel well in a pack, even when you're hiking to your campsite before dinner. Setting up a small campfire grill or a camp stove lets you whip up almost any meal you'd make at home. Inspiration for camping meals can come from your favorite cookbooks; look for meals that don't require refrigerated ingredients or long preparation times. Don't forget the bottle of red wine!
Turning Up the Heat
If you leave your partner shivering, your chances for quiet intimacy can drop lower than the temperature. Some sleeping bag manufacturers make double-wide sleeping bags for couples to share, which lets you cuddle for warmth during early spring and late fall trips. These couple-specific sleeping bags can turn even the coldest nights into opportunities for romance and comfort.
Remember the Details
Small details in your camp setup can make a big difference in the romance of your trip. LED light strings, tent lanterns, and candles can make your campsite seem magical, with soft lighting that makes your tent feel safe and warm. A portable speaker with some of your favorite relaxing music sets the perfect ambiance for the evening. Other extras like a pair of cozy pajamas or a soft, fluffy pillow can help your partner relax and unwind, creating the perfect mood for romance in the great outdoors.
Photo Credits
andreusK/iStock/Getty Images