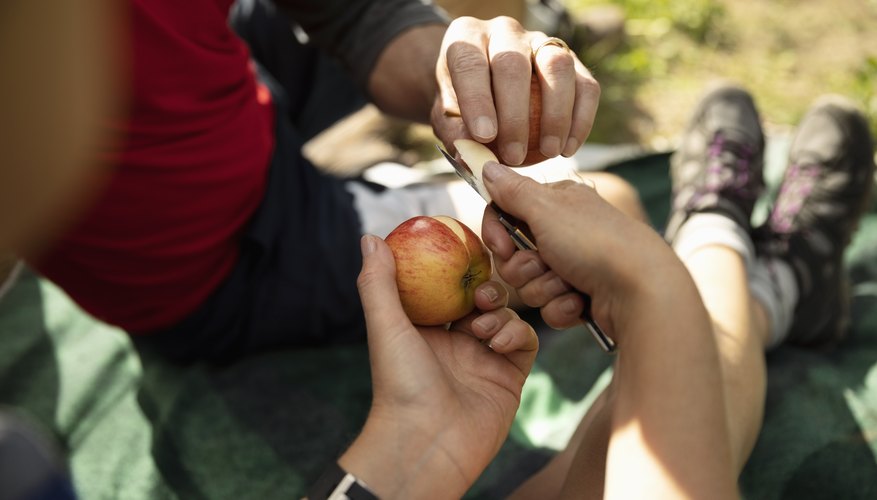 Making no-cook camping meals means you have more time to hike, relax and enjoy the scenery while camping. Ideally, most of these meal ingredients won't need refrigeration. With some advance preparation, you can eat healthy, nutritious meals and still have plenty of time for fun.
Cheap, No-Cook Camping Meals
You know that eating a well-balanced diet plays a key role in staying healthy. However, your crazy schedule and budget limitations have made that a real challenge. Marisa A. Pruitt, RD, CD, from Gundersen Health System offers some ideas for no-cook snack and meal ideas that are easy to prepare and won't break the bank.
For starters, remember that every meal should include some of these food groups:
Protein
Fruits
Vegetables
Grains
Dairy
Ideally, each tasty snack includes one to three food groups, while a nutritious meal combines three to five of them. If you're ravenously hungry, add one more food group. If not, take a group out of the mix.
Some ideas for nutritious snacks might include generous servings of:
Popcorn
Nuts
Fruit salsa
Tortillas

Chips
String cheese
Light, healthy meals could include a whole grain tortilla with cheese and salsa dipping sauce and fresh pea pods. Try a slice of rye bread topped with cream cheese and smoked salmon, accented by fresh cherry tomatoes. These on-the-go meals are great no-cook camping lunch ideas.
Foods That Don't Require Refrigeration
When you're planning a camping trip or preparing for a potential power outage, having a stash of non-refrigerated foods will make your life easier. Toward that end, the North Carolina State Extension recommends a diverse collection of tasty foods from the major food groups. Each food should keep equally well in your backpack or on your pantry shelves.
First, stock up on portable protein foods such as canned tuna, chicken, beans, salmon and meat spreads.
High-protein meals can include:
Chili con carne

Spaghetti with meat sauce
Meat jerky or dried meat sticks
Nuts and seeds

Peanut butter

All these items are ideal for your camping food (no cooking and no refrigeration needed) inventory list.
If fresh vegetables aren't available, opt for tasty and nutritious canned vegetable-based soups and juices. Some ideas are:
Tomato soup
Split-pea soup

Vegetable soup
Tomato juice
Mixed vegetable juice
Follow similar guidelines for fruits, and opt for canned fruit and single-serving boxes or cans of fruit juice.
Add small-size packages of starchy foods such as crackers, breakfast and protein bars and cold cereal. Instant or canned noodle soups can also work well, but be aware that you'll need water to complete their preparation. For camping, pack a small mixing/serving container, as well.
To get some calcium in your diet, stock snack-size cheese-and-cracker packages, single-size puddings and small boxes of shelf-stable milk or dairy substitutes. If you have access to water, powdered milk and hot cocoa mix are also good choices.
Finally, consider "comfort foods" that don't have much nutritional value, but might give you some added "oomph" when you need it. Examples include instant coffee or tea, potato chips and candy. Add these tasty items to your no-cook, no-refrigeration camping food packing list.
Tasty Meals Without a Stove
Take this opportunity to give your stove a rest and whip up healthy, delicious meals with a minimum of effort. Although some ingredients require refrigeration, you can still enjoy these meals on the first day of a camping trip (provided you have a well-chilled cooler).
For starters, the University of Florida Extension suggests a bean spread sandwich on whole wheat bread, topped with fresh veggies. For a portable tortilla wrap, layer low-fat cheese, sliced deli meat and fresh veggies on a whole grain tortilla. Fold salsa into the mix, tuck the wrap together, and enjoy.
For another option, mix canned (or cooked) chicken with low-fat yogurt or low-fat mayonnaise. Blend in crunchy vegetables and curry powder, and arrange on whole-grain bread with a bed of spinach leaves or tomatoes.
A fresh fruit cup, mixed with yogurt and topped with chopped nuts or granola, goes well with whole-grain bread or an English muffin. If fresh fruit isn't available, fruit canned in its own juice is a healthy and convenient alternative.
Bring These Handy Cooking Accessories
Even if you don't plan to cook on your camping trip, you'll still need some basic food preparation and serving accessories. If your plans include backcountry travel, the National Park Service suggests that you find lighter, compact versions of this equipment.
Bring plates, cups and metal serving utensils for everyone in your party. By adding a cutting board and a couple of knives, you can slice and dice your ingredients before assembling your meals at the campsite.
To minimize the items you'll carry, consider getting a self-contained camp mess kit. Each unit generally contains a small pot, skillet, plate and cup. Because the set is fabricated from metal, you can cook and eat with the same accessories.
Foods for a 3-Day Hike
Packing for a day hike is straightforward, even if you want to enjoy a perishable food or snack for lunch. Simply use an ice pack (or two) to chill your foods to just under 40 degrees. However, remember that ice packs add weight to your backpack, so opt for non-perishable foods when possible. Next, pack easy-to-eat foods that make good no-cook camping lunch ideas.
The Academy of Nutrition and Dietetics notes that nutrient-dense, lighter-weight foods, such as energy bars and trail mix are always good options. Beyond that, fresh fruit such as apples and oranges or pre-made tuna salad packages, are a good bet.
Dried meats can also provide a shot of protein with little added weight. These versatile items can be welcome additions to your camping food pantry.
On a multi-day excursion, consider cooler-chilled perishable foods for the first day's meals. After that, fuel up with packaged cereal, individually packaged meat- or fish-based salads and pureed fruit in pouches. If you can boil water, bring along whole-grain pasta, hot cereal and dried or dehydrated soups.
You're accustomed to planning meals for the entire week at home. Likewise, creating a no-cook camping meal plan ensures that you don't cram your backpack with unnecessary items while forgetting essential ones. And, you'll have all the ingredients necessary to turn your no-cook camping lunch ideas into tasty meals.
Sherry Mahoney, director of Nutrition and Food Services at the Mayo Clinic's Florida facility, notes that having a targeted menu plan improves your overall nutrition and can help enhance your energy. By using some creativity and perhaps a spice or two, you can whip up meals with that desirable "Wow!" factor.
Follow These Food Safety Guidelines
When you're preparing for an overnight (or longer) camping trip, you're focused on gathering the proper personal items and camping gear. However, remember that food safety is also important, even if you're eating no-cook camping meals.
First, Michigan State University recommends that you always wash your hands before you prepare or consume food. If you don't have access to running water, create a portable hand-washing kit containing clean water, soap, a bucket and paper towels. You'll also need a small trash bag for your food wrappers and paper goods.
Keeping food at the proper temperature can minimize your risks of contracting a nasty food-related illness that can sabotage your trip. To avoid the problem altogether, bring canned or prepackaged products rather than fresh items. Blend the ingredients together right before your meal.
When you've finished consuming your tasty camp food, promptly put the leftovers back in your chilled cooler. As a guideline, don't ever leave food outside longer than two hours. If temperatures are above 90 degrees, ice down all foods within one hour. Place a thermometer near the top of your cooler and ensure that the cooler temperature stays at 41 degrees or lower.
To wash dishes, use clean bottled or tap water rather than scooping water right from a river or lake. If you must use locally sourced water, boil or treat it with an approved method first.
Keep Your Drinking Water Safe
Drinking enough water is important for maintaining good health. When you're spending time in the great outdoors, especially in the warmer months, keeping plenty of water on hand helps you to stay well hydrated, according to the USDA.
When you get thirsty during a hiking or camping trip, you might be tempted to drink a few mouthfuls from a clear, cool mountain stream. However, the water could be contaminated with invisible pathogens. Or an animal could have died and decomposed in the water further upstream.
Don't increase your odds of a waterborne illness. To avoid this unpleasant scenario, pack an adequate supply of tap water or bottled water, and get your refills from a safe public water system.
On an extended hiking or camping trip, however, you might not be able to carry enough drinking water for your needs. In that case, source your water from a lake, stream or spring; but bring along a quality water purification system.
Of course, boiling the water is a foolproof way to ensure it's safe to drink. Boiling is also guaranteed to kill any microorganisms that have taken up residence in the hospitable liquid. Heat the water to a rolling boil, and keep the boil going for one more minute.
If you're forced to drink muddy water, let the water stand until the silt has visibly settled to the bottom. Then, scoop the clear water from the top of the container, and boil normally. On a high-elevation trip, the water's boiling point is lower, so boil it for at least several minutes to ensure the liquid's purity.
References
Writer Bio
Based in North Carolina, Felicia Greene has written professionally since 1986. Greene edited sailing-related newsletters and designed marketing programs for the New Bern, N.C. "Sun Journal" and New Bern Habitat ReStore. She earned a Bachelor of Science in business administration from the University of Baltimore.