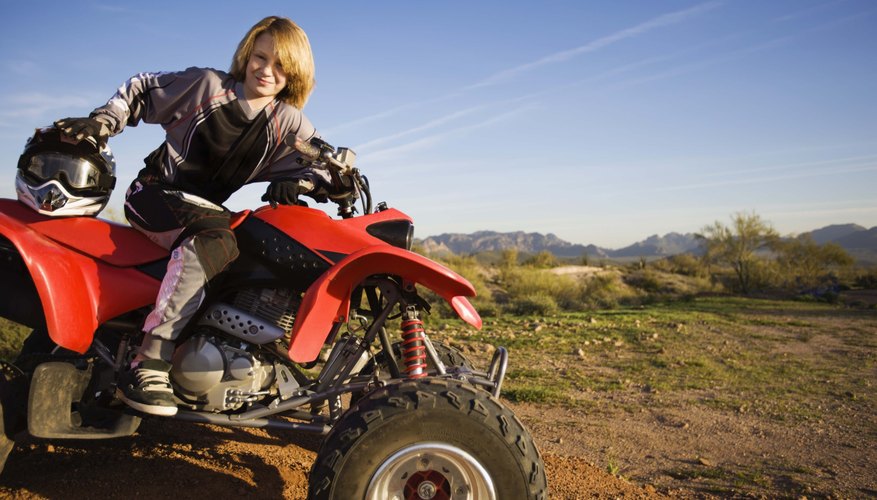 Polaris has been building ATVs since the 1980s. Its Phoenix 200 is an entry-level two-wheel-drive ATV that is ideal for both recreational and trail riding. Maintaining your ATV properly assures you won't have a long walk home; an important part of regular maintenance is changing the oil using the correct product.
Engine Oil
The recommended oil for a Polaris Phoenix's engine is PS-4 Plus Performance Synthetic 2W-50 4-cycle oil. The engine requires 41 oz. of oil to fill its pan. If Polaris oil is not used the ATV may require additional oil changes to maintain its life. Never mix different brands of oil in your ATV.
Transmission Oil
The transmission in the Phoenix requires Premium AGL Synthetic Gear Case Lubricant. You need 18.6 oz. of this oil to fill the transmission reservoir, and the drain plug should be tightened to 18 foot-pounds of torque when reinstalling it.
Rear Gearcase Oil
The gearcase needs Premium ATV Angle Drive Fluid to operate properly. To fill the gearcase you'll need 4 ounces of this fluid. The gear case is located on the drive shaft for the rear wheels, and has a fill plug on top and a drain plug on the bottom
Proper Maintenace
An ATV is exposed to a tough environment for any vehicle; for this reason, it is important to maintain the machine according to the manufacturer's specifications. Consult the owner's manual for the appropriate maintenance schedule to assure your ATV operates properly.
Writer Bio
Bob White began his writing career in 2006. Working in sales, he was a technical writer tasked with responding to requests for proposal. White has a Bachelor of Arts in computer science and a diploma in home inspection. He has also worked in construction, landscaping and the pool industry for more than 15 years.