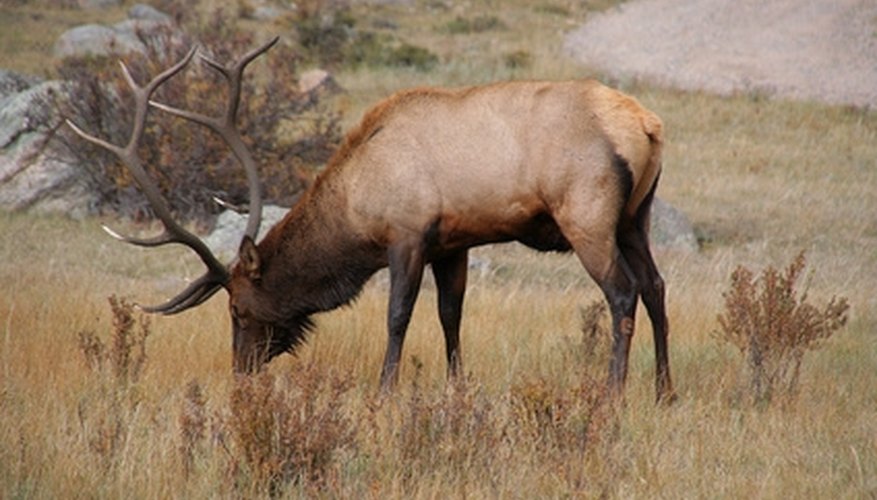 With a diverse, remote landscape, the "Land of Enchantment" is home to some of the best elk hunting in the West. According to the Rocky Mountain Elk Foundation, New Mexico has an elk population of around 80,000 as of 2009 and a hunter success rate of 35 to 50 percent on bulls 6 years old or older. Some areas, however, have a greater potential for producing a record-book bull elk.
Gila National Forest
Located in the top trophy elk-producing county (Catron) from 2000 to 2009, the areas within the Gila National Forest consistently produce the best bulls in New Mexico. Any of the "16" areas have the potential to produce a trophy, but according to "Eastman's Hunting Journal," the top areas are 16A, 16C and 16D. These areas feature remote, rugged country that requires a long hike or pack-in trip. Drawing a tag for these units can be tough, but after you draw you have an excellent opportunity at shooting a 350-inch bull.
Gila National Forest
3005 East Camino del Bosque
Silver City, NM 88061
575-388-8201
fs.usda.gov
Valles Caldera National Preserve
The Valles Caldera National Preserve, covering about 95,000 acres in northern New Mexico, offers the opportunity for a 300- to 350-inch bull. To hunt the Valles Caldera, you must purchase a lottery ticket from the preserve for $30. Each hunter is limited to 20 chances, and once you draw, you will purchase an elk permit from the New Mexico Game and Fish for Unit 6B.
Valles Caldera National Preserve
18161 Highway 4
Jemez Springs, NM 87025
505-661-3333
vallescaldera.gov
Cibola National Forest
According to "Eastman's Hunting Journal," area 17 in the Cibola National Forest and area 15 in the Apache National Forest are some of the top areas for a 300- to 340-inch bull. The areas don't offer rifle hunts as of 2010 which helps to preserve the trophy quality. You can hunt with archery equipment during the early season and September rut or a muzzleloader during the post-rut in October. Odds for drawing an elk tag improve during the early season.
Cibola National Forest
2113 Osuna Road NE
Suite A
Albuquerque, NM 87113
505-346-3900
fs.usda.gov
Valle Vidal
The Valle Vidal---also called the "Valley of Life"---is located within area 55 of the Sangre de Cristo Mountains in northwest New Mexico. This area is the only once-in-a-lifetime New Mexico elk tag, and for good reason as hunters experience high success rates on trophy bulls. It doesn't offer the true potential for a "monster" elk as some of the other top areas, but hunters still have a high success rate on bulls measuring 300- to 320-inches.
Valle Vidal
208 Cruz Alta Road
Taos, NM 87571
575-758-6200
vallevidal.org
References
Writer Bio
Based in Nebraska, Jeremy Hoefs began writing fitness, nutrition, outdoor and hunting articles in 2006. His articles have been published in "Star City Sports," "Hunting Fitness Magazine" and RutWear field journals, as well as on the Western Whitetail website. Hoefs graduated with a Bachelor of Science in exercise science from Nebraska Wesleyan University.