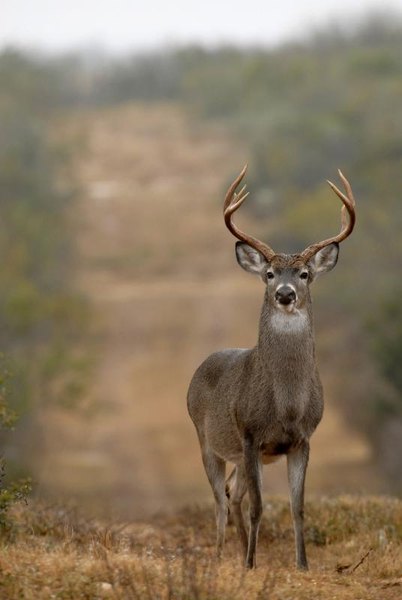 Kentucky is one of the premier deer hunting states in the country, with many regions experiencing a year-by-year increase in deer population and harvest. Opportunities are abundant in this state, with a population of around 900,000 deer and about seven hunters per square mile. However, some counties in Kentucky have a very low deer population, so it's crucial to know where your best chances of bagging a buck in Kentucky are.
Blue Grass Region
The Blue Grass Region is the best area in the state of Kentucky for deer hunting, with Owen county leading the pack. During the 2013 deer season, hunters bagged a record 4,069 deer, which was more than in any other county. The deer are so abundant in the Blue Grass Region that hunters harvested more deer in this area than in the northeast and southeast regions combined. Pendleton, Shelby, Grant and Boone round out the top five counties in this region, each with harvests of between 2,324 and 3,484 during the season.
Green River Region
Several counties in the Green River Region offer excellent deer hunting opportunities. Of all the counties in this area, Hopkins, Hardin, Hart, Webster and Breckinridge offer the best chances for success at bagging a buck. Hopkins leads the way with a recorded harvest of 2,542 deer during the 2013 season. The other four counties in the top five were close behind, with hunters bagging between 2,222 and 2,470 bucks per county.
Purchase Region
The Purchase Region was the only area besides Blue Grass where more than 3,000 bucks were bagged in a single county and it had the second largest harvest in the state. Hunters in Crittenden took 3,033 bucks during the 2013 season. Four other counties had an impressive season, each with a harvest of more than 1,500 deer. Christian, Graves, Trigg and Livingston rounded out the top five counties with between 1,737 and 2,910 deer taken in each.
Best Trophy Buck Counties
If any old whitetail just won't do and you're on the hunt for trophy bucks, Kentucky has you covered. The Green River Region has long been regarded as a trophy buck host area, with the best counties being Ohio, Logan, Hopkins and Todd, according to Game and Fishing magazine. The Blue Grass Region is another hot spot, with Pendleton, Garrard, Boone and Henry counties offering the best chances for bagging a trophy buck.
References
Writer Bio
Ainsley Whitley is a contributing writer for various branded properties that together attract more than 280 million readers seeking influential content. Whitley's articles have appeared in various print and online magazines, including "GQ," "Details," "Southern Living" and "Cooking Light."