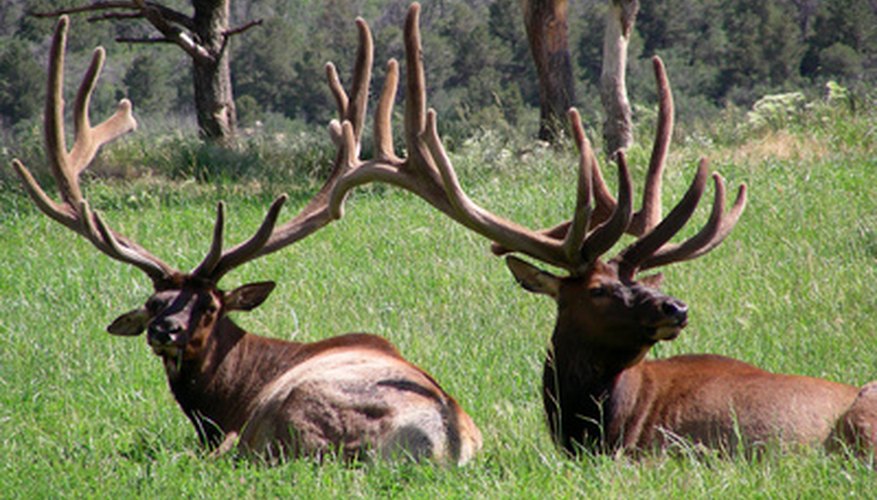 Craig, Colorado, in the northwestern corner of Colorado and Moffat County, is often referred to as the "Elk Hunting Capital of the World." With one of the largest elk herds among the 280,000 statewide elk population, Craig is a popular destination for elk hunters. As of the 2000 census, the population of Craig was 9,189, but that population nearly doubles during the elk season. As a result, businesses in the Craig area rely on the hunting season to stimulate the economy. According to "Eastman's Bowhunting Journal," Moffat County is tied for second as the best county in Colorado for producing Boone and Crockett trophy bull elk.
Items you will need
GMU map

Elk tag

Topographic map

Backpack

GPS

Binoculars

Weapon
Preparation
Step 1
Pick a game management unit (GMU) and scout a hunting area. The Colorado Division of Wildlife divides the state into GMUs to manage the elk population. The Craig area has several GMUs and public hunting areas to choose from. If you are interested in hunting on private ground, talk to the landowners and obtain permission or purchase a hunting lease. Flat Tops Wilderness, about 60 miles south of Craig, covers 235,214 acres at elevations around 10,000 feet and is recognized as having trophy bulls. Keith McCafferty, from "Field and Stream" magazine says, "Some bigger bulls live in the Flat Tops Wilderness Area of this tract, but it's all thin air and you can get snow up to your knickers very quickly here." He also recommends the White River National Forest to the south in GMUs 23, 24, 25, 26, 33 and 34. Another public hunting area is the Routt National Forest to the east that covers GMUs 4, 5, 14 and 15
Step 2
Apply or purchase an elk tag. Each tag is designated to one GMU. Most of the GMUs around Craig offer unlimited over-the-counter bull elk tags, as of 2010, for the second and third rifle seasons. Tags and habitat stamps can be purchased online at the Colorado Division of Wildlife's website or at any license vendor. As of 2010, resident elk tags are $49 while nonresidents must pay $544 for a bull or either-sex tag and $354 for a cow tag.
Step 3
Prepare for the elements. Elk seasons around Craig can start as early as late-August and can last until November. During that time, temperatures could reach 90 degrees or drop to below freezing with heavy snowfall. For 2010, the archery season opens on Aug. 28 and closes on Sept. 26. Prepare for warm weather, sunshine and thunderstorms. As the rifle seasons roll around in November, snowfall is likely so pack waterproof and insulated clothing.
Methods
Step 1
Escape the crowds. McCafferty says there are big bulls around Craig but they are hunted heavily. Find remote trail heads and campsites and hike away from the other hunters. The Flat Tops Wilderness, for example, has about 160 miles of trails for use. Review the topographic map to find the trail and head into the back country. As the season continues, elk will concentrate into these deep areas away from the pressure. Mark Seacat, marketing director for Mystery Ranch Backpacks, focuses on these areas where the elk travel to escape the hunting pressure.
Step 2
Glass and pattern the elk. Use binoculars or a spotting scope on a vantage point to overlook a basin or drainage and observe how elk move through an area from bedding to feeding areas. With a large population of elk and a potential for a trophy bull in the Craig area, use this time to field judge the quality of bulls and to create a strategy. After observing the movement patterns of the elk, move into position for a shot.
Step 3
Use the terrain to your advantage and keep the calling to a minimum. Hunting pressured elk from the Craig area can be challenging using cow and bull calls. Use the rugged, broken terrain and dense cover to move quietly through the mountains as you approach a herd of elk. When you are within 200 yards, make soft, non-aggressive cow calls. The elk will move in your direction as they investigate the soft calls. Prepare for a shot after making a short calling sequence of about 30 seconds.
References
Writer Bio
Based in Nebraska, Jeremy Hoefs began writing fitness, nutrition, outdoor and hunting articles in 2006. His articles have been published in "Star City Sports," "Hunting Fitness Magazine" and RutWear field journals, as well as on the Western Whitetail website. Hoefs graduated with a Bachelor of Science in exercise science from Nebraska Wesleyan University.