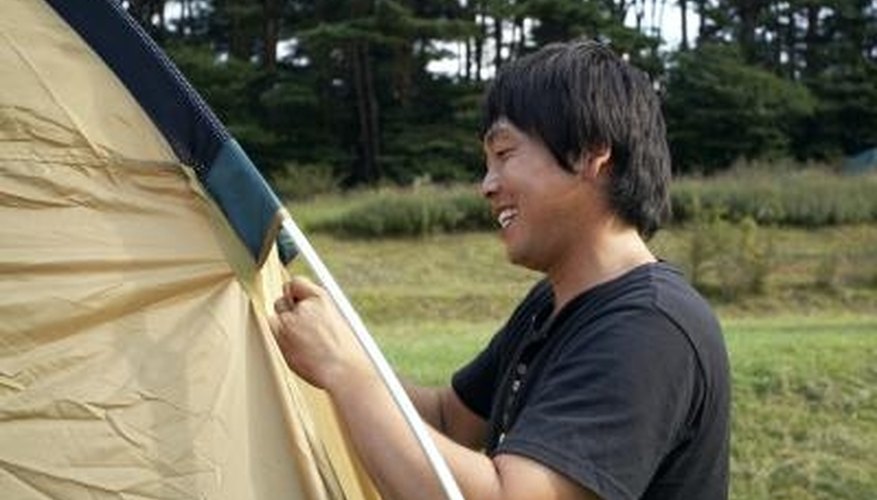 The TimberTop Geo tent is a Coleman product. The dome-style tent features a large room capable of sleeping five people. The tent includes a screen room and awning for gear storage and outdoor living. TimberTop Tents are primarily sold in Australia and New Zealand, but retail models may be ordered in the United States and Canada.
Organizing the Materials
Locate a flat site and remove the tent from its bag. Separate the poles based on color, place the stakes in a pile and use a rock to anchor the inner tent and tent fly. It is not necessary to anchor the fabric. Assemble all of the poles to prepare the tent for setup.
Erecting the Tent
Spread out the inner tent on the ground; locate the color-coded pole sleeves. Match the poles with the sleeves based on the color. The dome section uses two gray poles and two yellow poles. Slide the poles through the sleeves, and insert the corresponding pin into the end of each pole to erect the dome. Insert the green pole through the green sleeve located at the door of the dome. Insert the red pole through the red sleeve at the vestibule door.
Attaching the Fly
Drape the fly over the inner tent to protect the interior from the elements. Adjust the position of the fly until the dome and vestibule sections are properly aligned. This process might be completed by one person, but it is much easier to manage the materials with two people.
Anchoring the Tent
Use a rock or hammer to pound the pegs through ground loops on the inner tent. Pull each corner of the fly to the ground and pound a peg through the corresponding ground loop. Pull the attached guy lines to the ground; pound a peg through the loop to completely anchor the tent. The guy lines are not mandatory, but they do provide extra security against high winds.
References
Writer Bio
Zach Lazzari is a freelance outdoor writer specializing in hunting, fly fishing and the general outdoors. He guided fly fishing trips for 10 years in Colorado, Alaska, Montana and Patagonia-Chile. Zach lives in Montana and splits time between the river and keyboard.