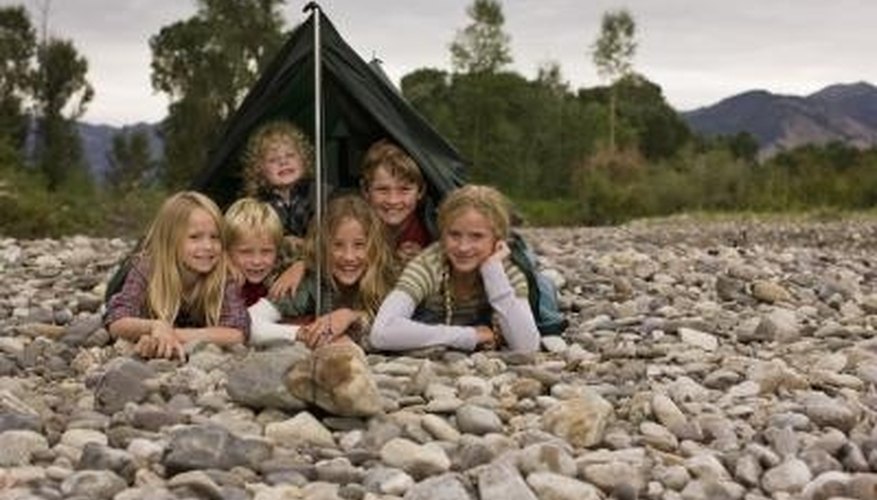 Roughing it requires minimal tools and materials for a simple camping trip. You may bring along a few luxuries for entertainment, but roughing it takes place in remote areas where you do not have immediate access to services. You must be prepared for the elements and pack practical gear that will make sure you survive and enjoy the backcountry experience.
Shelter and Sleeping
Roughing it does not mean you should sleep in an uncomfortable state. Bring a tent or tarp to remain dry throughout the night, and bring a sleeping bag or blankets to remain warm. Use lightweight gear if you want to be mobile and backpack in remote areas. The tarp is ideal because you may build a lean-to-style shelter and sleep next to a fire for warmth. The basic fabric tent also works, but it does not insulate or provide heat in cold weather.
Kitchen and Fire
Roughing it means a simple kitchen for cooking meals. You may bring a small backpacking stove and dehydrated meals or skip the weight of the stove and eat dry foods like nuts and jerky. Areas where fires are legal constitute a fire-starting kit. Bring a lighter, a spark thrower and a ball of lint to assist with the fire starting. Bring one pot for cooking and a water bottle and purifier. Also carry as much water as possible in desert environments. Large water storage containers are ideal for long-term camping. Pack a small shovel for digging your fire pit and carry a trash bag to pack out your waste.
Emergency Gear
Roughing it requires that you be prepared for emergency survival situations. The fire-starting kit and water purifier are useful for survival, but you also must be prepared with a first aid kit that contains gauze, antiseptic, tape and any medications that you require. Also carry an emergency communication device like a satellite phone or satellite messaging system. Bring a section of rope and a knife for utility around the camp and also for survival use as a hunting and cutting tool.
Entertainment
Roughing it is a simple form of camping, but entertainment in the backcountry is an easy possibility. Bring a deck of cards and a book to remain busy during long periods of downtime. Also be prepared for hiking with quality shoes and extra socks. Fishing gear is ideal for roughing it in water-rich regions, and you can participate in other outdoor activities like rock-climbing and mountain-biking while camping.
References
Writer Bio
Zach Lazzari is a freelance outdoor writer specializing in hunting, fly fishing and the general outdoors. He guided fly fishing trips for 10 years in Colorado, Alaska, Montana and Patagonia-Chile. Zach lives in Montana and splits time between the river and keyboard.