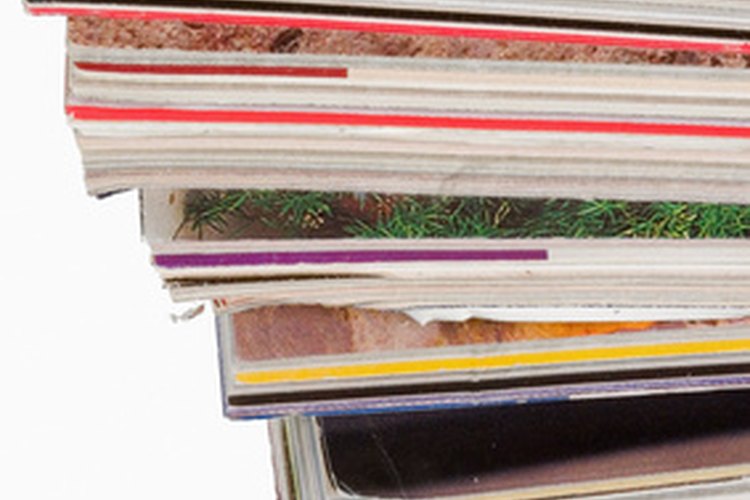 People keep old magazines for a variety of reasons. Whether you're a magazine collector, plan on selling them one day or you just want to keep them for the cover art or specific articles, it's important to store the magazines properly so they don't become damaged. Just putting old magazines in a box for storage is not good enough. Moisture, dirt, bugs and rodents can damage the magazines. Store old magazines properly to preserve them for years.
Place acid-free tissue paper in between certain pages of the magazine you wish to preserve. If you want to preserve the entire magazine, put the acid-free tissue paper in between each page of the magazine.

Put each magazine inside of an archival polypropylene plastic sleeve protector. This will keep moisture and dust off of the magazine. You can buy plastic sleeve protectors at most office supply retailers.

Put a piece of corrugated cardboard or acid-free backer board under the backside of the magazine to offer support. The cardboard will also help the magazine remain flat.

Stack the plastic sleeves with your old magazines upright in a heavy-duty, archival corrugated storage box. Choose boxes with metal corners for solid support.

Situate the boxes in a dark place with low humidity and cool temperature. A closet or storage racks in the basement will work well. Keep the boxes off of the ground, if possible, to reduce the chances of moisture damage.
Items you will need
Acid-free tissue paper
Archival polypropylene plastic sleeve protectors
Corrugated cardboard or acid-free backer board
Heavy-duty archival corrugated storage boxes
Photo Credits
stack of magazines image by Chad McDermott from Fotolia.com