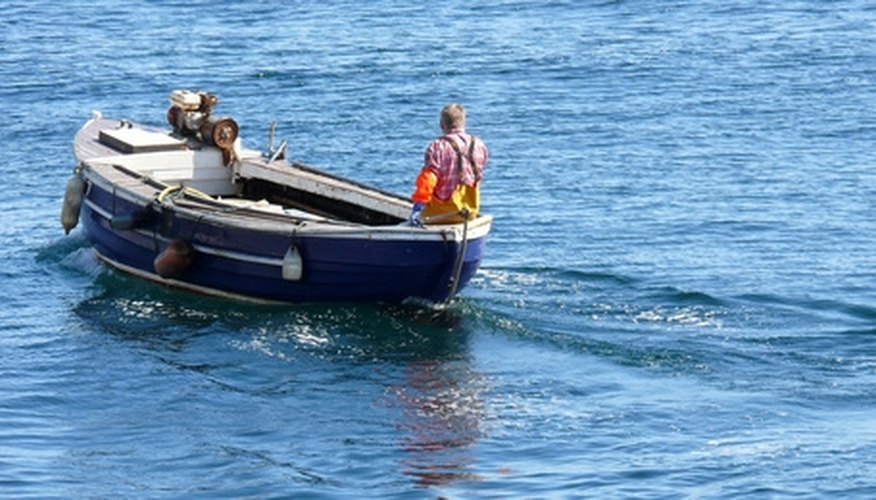 Started in 1934 in Fargo, North Dakota by the inventor of the boat trolling motor, O. G. Schmidt, the Minn Kota Manufacturing Company has been building trolling motors for avid outdoorsmen for over 75 years. Although the Minn Kota 35 is no longer in production, used 35s are still easy to find on the market.
Controls
The Minn Kota 35 and its counterpart the 35 turbo operate with a twist-grip control. Twist the control clockwise to start the motor and to activate the forward speeds. Twist the control counterclockwise to reverse the motor. The control has a telescoping handle which extends to bring the control within easy reach.
Power
The Minn Kota 35 generates 17 pounds of thrust, or the force that moves the fishing boat with its passengers and accompanying gear through the water. The 35 turbo provides a boat with 27 pounds of thrust.
Speeds
The Minn Kota 35 provides its user with four forward speeds and two reverse speeds, so the boat can move at the required speed for optimal fishing. The turbo has five forward and three reverse speeds.
References
Writer Bio
Robert Alley has been a freelance writer since 2008. He has covered a variety of subjects, including science and sports, for various websites. He has a Bachelor of Arts in economics from North Carolina State University and a Juris Doctor from the University of South Carolina.