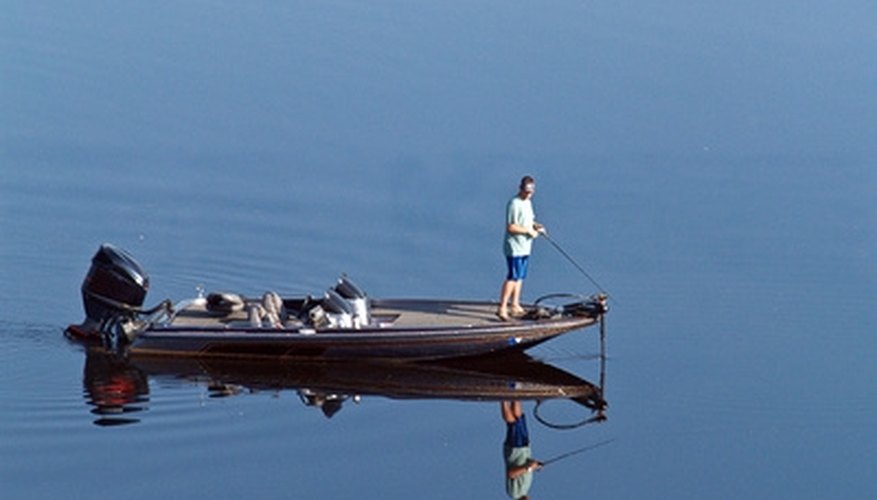 The 10-horsepower Johnson outboard motor was manufactured from 1949 to 1963 under the model name Seahorse. It is a two-cycle motor that requires the oil to be mixed directly with gasoline. In 1957, Johnson started producing a model with a longer shaft in addition to the original model. The original model's serial number began with QD, while the model with the longer shaft had a serial number beginning with QDL. There are no other differences in the motors besides shaft length.
Engine
The 10-horsepower Johnson Seahorse is a two-cylinder engine with a 2 3/8-inch by 1 7/8-inch bore and stroke and a 16.6-cubic-inch displacement. The operating range is 4,000 to 5,000 rpm and is certified 10 horsepower at 4,500 rpm. The 10 horsepower Johnson Seahorse is capable of going slowly enough for trolling all the way up to 20 mph, depending on the size and weight of your boat. A vari-volume water pump cools off the engine. The spark plug gap on the 10-horsepower Johnson Seahorse motor is .03 inch.
Drivetrain
There is a 13 to 23 gear ratio with neutral, one forward and one reverse gear. The gears are controlled by a twist grip or the optional remote controls. The gears turn a three-blade propeller that is 8 and 1/4 inch in diameter and has an 8 and 1/2 pitch.
Weights and Measurements
The weight of the motor without the fuel tank is 67 lbs., while the weight of the empty fuel tank is 12 lbs. The stern height is 15 inches for the QD model and 20 inches for the QDL model. The height of the cover above the stern is 22 and 1/2 inches for both models. It is recommended to have 21 inches of clearance inside the boat in front of the motor so that the motor can be tipped forward easily.
Writer Bio
Oscar Sanchez has been writing professionally since 2008. He has had articles appear on the Ghiath Tech Blog as well as on the Downriver Repair Blog. He earned an associate degree in commerce from Monroe County Community College and is pursuing a Bachelor of Business Administration from Siena Heights University.