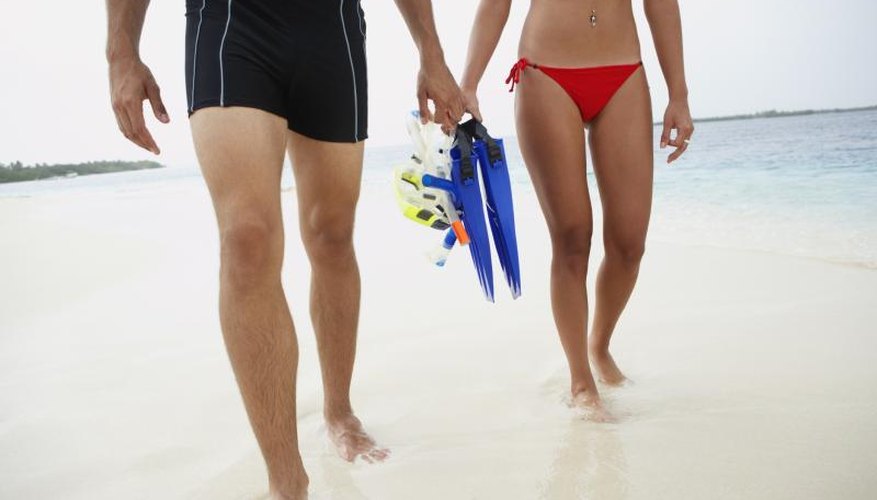 Snorkeling in North Carolina is a vastly different experience than snorkeling in the Caribbean or even Florida. Powerful waves and offshore currents that left dozens of ships wrecked in the "Graveyard of the Atlantic" just off the coast leave water murky with silt and sand. When water conditions permit, you can still see plenty of underwater life along North Carolina's coastline, including turtles, fish and crabs.
Water Conditions
Plan to snorkel when tides are at their highest or lowest. The less tidal movement in the water, the greater your visibility will be, and you're less likely to encounter dangerous currents. Before entering the water, get a tide table so you can plan your snorkeling during slack tide, when you'll have an hour or more of calm water. Visibility in the water may also be affected by rainfall in rivers far upstream. As river levels rise, increased amounts of silt are carried along by the water and pour into the bay at the river's mouth. Storms far out at sea may also churn up clouds of sediment that drift into shore before settling.
Beginner-Friendly Areas
Stop by the Pine Knolls Aquarium on the eastern end of Emerald Isle to take a look at local marine life in a silt-free habitat. The aquarium hosts snorkeling trips, usually led by an aquarium naturalist, to some of the most fish-filled waters in the area. A snorkeling trip for kids ventures to Bogue Sound, designated as Essential Fish Habitat by the South Atlantic Fishery Management Council. You'll see blue crabs, shrimp, five species of sea turtle and lots of juvenile fish. You can also access the sound from Hammocks Beach State Park or Emerald Isle. A second snorkeling trip hosted by the aquarium heads to Radio Island. A rock jetty running parallel to the beach along the island's south end provides hiding paces for marine life, and you'll see both tropical and game fish during the summer.
Among the Turtles
The backside of Topsail Island provides one of the best-protected areas along the North Carolina coast for snorkeling. The 26-mile-long barrier island is a sea turtle sanctuary, and you can sometimes see small sea turtles along jetties and piers extending into the water. Look for sea grass beds, where a wide variety of marine life goes to seek shelter or food. Three public beaches along Topsail allow access to the waters. When snorkeling in sea grass beds, take care not to disturb silt at the bottom of the beds, or stand on the bottom. Not only can you damage the grass and aquatic life, but you may stir up jellyfish or stingrays living near the bottom.
It's a Wreck
Swim or kayak out 100 to 350 yards from the beach in Nags Head and you can snorkel over a half-dozen shipwrecks lying in 20 to 25 feet of water. Use the Second Street beach access to head out to the Kyzickes, a tanker lying 100 yards offshore. Another 100 yards brings you to the wreck of the Carl Gerhard, a 1929 freighter that lies on the bottom broken in half. At the Bladen Street access, you can see the 1877 gunship Huron about 250 yards north of the Nags Head Fishing Pier. When you're 100 yards out from the pier, you'll see the Explorer -- a tugboat that sank in the early 1900s that is partially covered in sand. Make sure to go out in a boat if you're not a strong swimmer; snorkel with a companion; and wear a wetsuit during spring, winter and autumn months to avoid hypothermia.
References
Writer Bio
Indulging her passion for wide open spaces and outdoor fitness through the written word on a full-time basis since 2010, author Jodi Thornton-O'Connell takes the mystery out of outdoor skills and guides readers to discover fun ways to physically connect to natural surroundings.