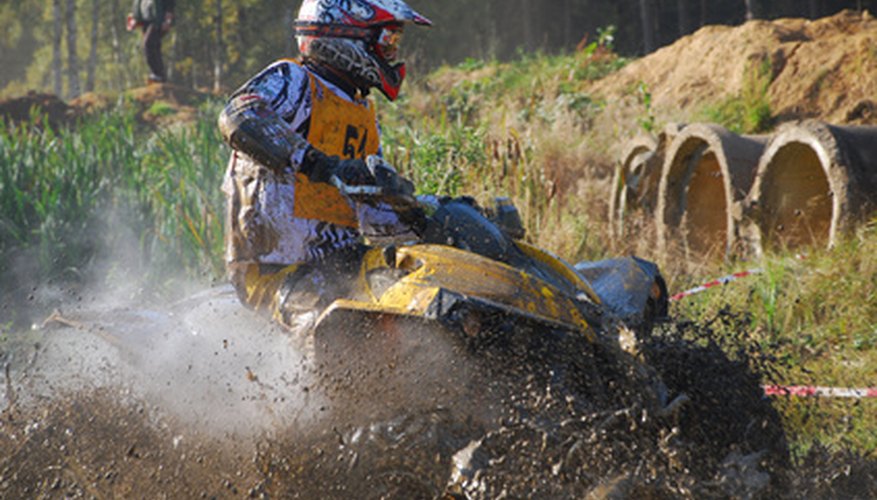 The North Carolina coast is very ATV friendly. The trails along the coast not only offer ATV riders sandy oceanfront trails, but also muddy bogs in which to get a little dirty. Some trails are within refuges where you can spot rare wildlife in action.
National Seashores
The Cape Hatteras and Cape Lookout National Seashores have ATV trails throughout the park reserves. The trails follow the North and South Core Banks of North Carolina's Outer Banks. Some trails take riders down to Harker's Island and out to the lighthouses along the beach shores. Restricted areas include places where the Shackleford horses and ponies wander the banks.
National Forests
Croatan National Forest allows off-road vehicles and ATV riders throughout the forest. "These drive-ways, many of which are dead ends scattered throughout the forest, are marked with creosote posts, showing the types of vehicles allowed," according to ATV Connection. Use caution on these trails, since most have deep and very muddy holes in which vehicles can easily get stuck.
OHV Parks and Motocrosses
Several coastal cities, and nearby inland ones, have OHV and motocross parks for ATV riders. Such parks include the Busco Beach ATV Park and Campground in Goldsboro; the Cape Fear ATV and Motocross Park in Elizabethtown; the Crystal Coast Motocross Park in Maysfield; the Creswell Motocross Park in Creswell; the Ironclad Motocross Park in Kinston; the Cow Branch Park in Macclesfield; and the Halfmoon and Jacksonville Motocross Parks in Jacksonville. The Rider Planet website lists all of the OHV parks in the state, including coastal parks.
Chartered Tours
Coastal ATV outings can include the whole family. Corolla Outback Adventures in Corolla, North Carolina, offers guided tours of the beach on ATVs. The guided tour takes riders to the lighthouse in Currituck, onto the beach toward the Virginia border and out to see the wild ponies in the Wild Horse Sanctuary. Other sites include a shipwreck and a maritime forest.
Wildlife Refuge
Wildlife refuges like the Pocosin Lakes National Refuge in Columbia offer ATV riders more than 25 miles of off-roading trails in which to see local wildlife, including black bears, alligators, both gray and red foxes, swans, geese, ducks or even endangered species like the red-cockaded woodpecker and red wolf. For riders who also like to fish and hunt, the refuge also allows deer and duck hunting, as well as bass, catfish and crappie fishing.
State ATV Laws
North Carolina requires that all ATV riders wear a helmet and eye protection. The state also prohibits operators from riding on streets and highways. Children 8 years old or younger are not allowed to operate an ATV vehicle and anyone younger than 16 must be supervised at all times by someone 18 or older. ATVSafety.gov gives a more complete list of North Carolina's laws and regulations.