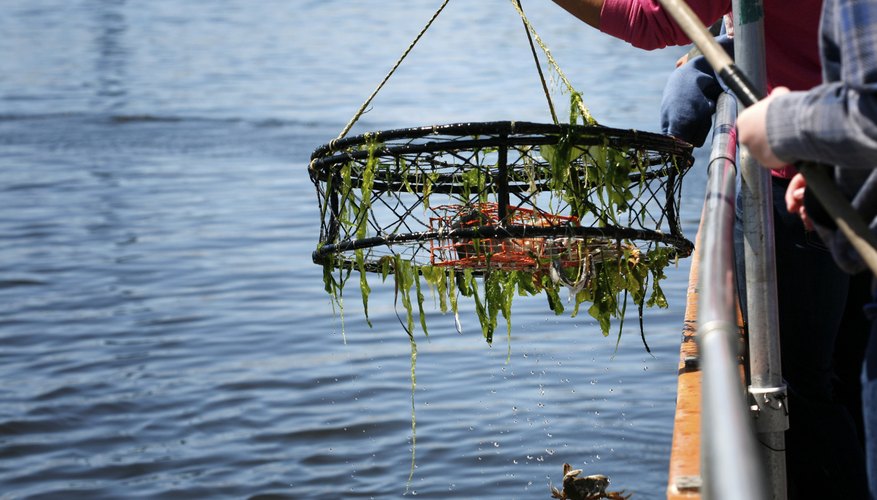 The North Carolina coast is renowned for its seafood cuisine, especially locally harvested blue crab. The delicacy is readily available in local restaurants, but you're in luck if you find that doing it yourself makes dinner taste better. Go crabbing right off the dock of your vacation home any time of day or night throughout the year, or head to a public park or beach for crabbing during park hours.
The Outer Limits
Some of North Carolina's best crabbing areas lie along the Outer Banks, which stretch from the Virginia border to the middle of the state. If you're staying in a vacation rental home along one of the many saltwater canals that run through residential areas, you can cast a crab pot right from your shore. Public areas in the Outer Banks also offer productive crabbing sites. Currituck Heritage Park in Corolla has saltwater ponds and canals favored by crabs during the warm months as well as a beach flanked by a wooden boardwalk. Avon Harbor on Hatteras Island is a crabbing hot spot with access to remote sandy areas along Pamlico Sound.
Getting Centered
In the center of the state, crab at Hammocks Beach State Park, which is accessible only by private boat or a ferry that runs from April through October. Crab anywhere along the island's beaches or rent a canoe or kayak and paddle to nearby Huggins Island. The island's marshy areas are feeding grounds for crabs during the warm months. Facilities on Bear Island include flush toilets, showers, a picnic area and primitive campsites along the beach.
The Not-So-Deep South
In southern North Carolina, look for crabs in the estuary waters of Fort Fisher State Recreation Area -- during the summer months, they congregate in the warm waters of the salt marsh areas to feed and mate. The park has flush toilets and a rinsing station open from mid-March through mid-November. The recreation area is home to 16 threatened and endangered species, as well as loggerhead turtles and a variety of shorebirds, raptors and waterfowl.
Keeping it Legal
You don't need a fishing license to take crabs from a public beach in North Carolina, providing you're using a dip net or a collapsible ring net. If you prefer using crab pots, you'll need a North Carolina recreational commercial gear license at any public access point. Crabs must be a minimum of 5 inches wide when measured across the spikes that extend from each side of their shell, and it's illegal to take female crabs with egg sponges attached to them.
References
Writer Bio
Indulging her passion for wide open spaces and outdoor fitness through the written word on a full-time basis since 2010, author Jodi Thornton-O'Connell takes the mystery out of outdoor skills and guides readers to discover fun ways to physically connect to natural surroundings.