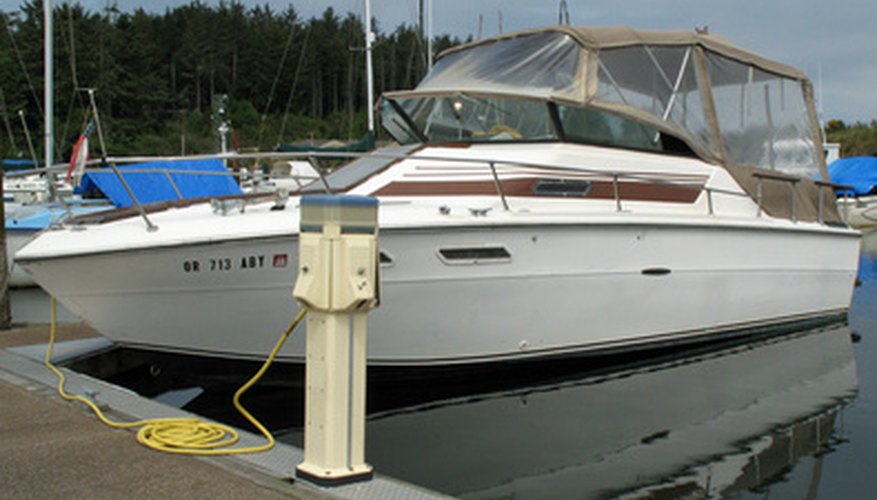 If you've got a new boat in your life and you want to know where it's been, never fear – the process of finding a boat's history is much like that of finding a car's.
Boats have Hull Identification Numbers (HIN), just like cars have Vehicle Identification Numbers (VIN). Anyone can look up a boat's history by finding its HIN and checking corresponding public records.
Finding the right information
Find the HIN on the boat. It has twelve characters and can be found on the right side rear of the vessel, and it should also be available on the boat's registration documentation. The first two characters of the HIN indicate the country in which the boat is registered. The number as a whole is unique to each boat, and it's important to run a search on this number to ensure that it's valid before committing to buying a boat.
Once you've tracked down the HIN, make sure to write it down so you have it for future reference.
Searching the HIN
This report will detail the age of the boat, its owners, and whether the boat has had any accidents over the years. It can also specify if the boat has been reported as stolen or missing.
There are several ways to run a HIN against public records to identify any incidents from a boat's past, but by far the easiest way is online. Websites like the U.S. Coast Guard, Boatfax and Boat History Report allow you to search a boat's HIN to make sure the number is valid, and they do further searches to pull up the boat's history report, as well – and sometimes, multiple reports are available.
Ordering a history report
Type in the boat's HIN and order a history report. Some websites, like Boatfax, will at least let you know if the HIN is valid free of charge. But to obtain the entire history report, you'll probably have to grab the credit card. Boat History Report, for example, offers a single history report for $40 or five reports (for comparison) for $55.
Once you've paid, the website's database should immediately load the boat's report (or reports) for you to view and print. Read the whole report to find the full history of the vessel, and keep an eye out for any red flags, such as major accidents or reports of the boat being stolen.
Do not buy a boat without first checking its history.
References
Tips
Do not buy a boat without first checking its history.
Writer Bio
Susan Reynolds has been a writer since 2008. She holds a B.A. in English from the University of South Florida and is a licensed real estate agent in Florida.