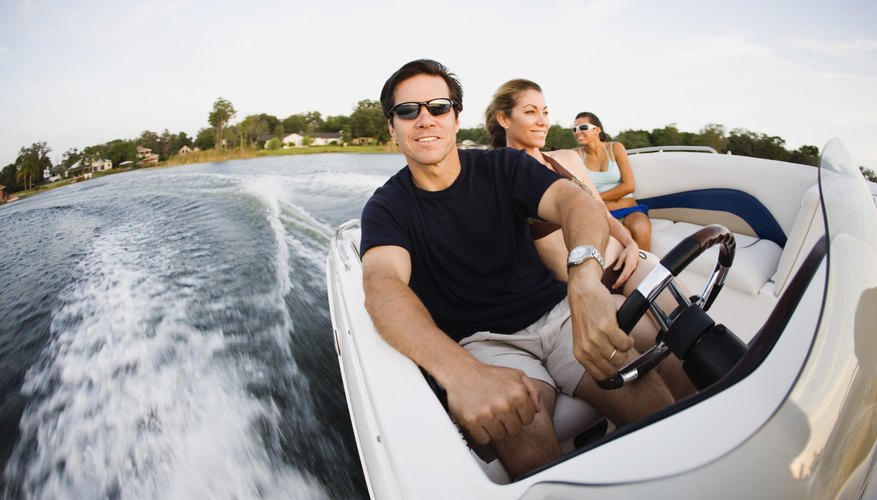 You may wish to inspect a boat's title for a number of reasons. For a documented boat, you can obtain an abstract of title from the National Vessel Documentation Center. For state-titled boats, go to the appropriate state agency.
If you're considering buying a boat, you'll need to do far more than simply review the abstract of title. You'll have to verify boat ownership and history and make sure that the vessel doesn't have outstanding, undisclosed liens.
Checking Boat Title
When you want to check a boat's title to determine ownership, the document you're looking for is called the "abstract of title." If the vessel is documented with the Coast Guard, your task is an easy one. Vessels of 5 net tons or more used in fishing or in coastwise trade must be documented by registration with the federal government.
Some states require that a boat used in its waters be registered and sometimes titled by the state. Some states regulate only undocumented boats, but others regulate both documented and undocumented boats.
Checking Title of Documented Vessel
If you're checking title on a documented vessel subject to national registration, the abstract of title is part of the Coast Guard documentation on the boat. In order to obtain the abstract of title, you'll need the vessel's name and the official Coast Guard documentation number engraved on the ship's beam. If you know the hailing port, that can also be helpful. Hailing ports are usually traced on the boat's transom.
You can obtain information about all documented vessels by using the online searchable database of the National Oceanic and Atmospheric Administration (NOAA) Office of Science and Technology. Enter the name of the boat and the Coast Guard documentation number to obtain the information. If you have problems, you can contact the National Vessel Documentation Center and request an abstract of title for the boat.
Checking Title of Undocumented Vessel
What if the boat is not subject to national registration? Many states require that boat owners register or title vessels based within their borders. Ask the seller for information about whether boat registration and titling was done. You can also check with the state department that registers motor vehicles to determine which boats must be registered.
For example, in Texas, boat owners must title all motorized boats regardless of length, all sailboats 14 feet or longer and any sailboat of any length that has an auxiliary engine. Note that small boats and boats without motors (like sailboats, canoes and rowboats) are usually not subject to boat registration and titling rules.
Other Elements of a Pre-Purchase Title Search
Obtaining an abstract of title will give you the name of a boat's owner. But if you're thinking of buying a boat, your research must include far more than this. In addition to verifying the boat ownership with title, confirm that the boat is free of liens and encumbrances and learn something about its history. It may be worthwhile to hire a boat documentation professional or attorney to pull together and review the information for you.
This kind of expanded boat title search starts with information provided by the seller, who should offer complete details about the boat description and how it is titled and/or registered. The seller should also reveal in writing all outstanding liens, encumbrances or claims against the boat, as well as the boat history. The seller should provide evidence to support these details, like copies of the boat's title, registration, Coast Guard documentation and any financing documents.
You'll need to verify all registration and title documents you receive from the seller. Go directly to the agencies to be sure they're accurate and current. Look for any recorded liens as well as non-recorded liens, which include unpaid bills for moorage, repairs and supplies related to the boat's operation. These liens can be difficult to track down. An attorney can insert language in the sales contract to hold the seller responsible for any undisclosed liens if the sale is consummated.
References
Writer Bio
From Alaska to California, Switzerland to Brazil, France's Basque Country to Mexico's Pacific Coast, Teo Spengler has camped, hiked, surfed and fished, and written articles lighting the way for others to do the same. A published novelist and professional writer, Spengler earned a BA from U.C. Santa Cruz, a law degree from U.C. Berkeley's Boalt Hall, and an MA and MFA from San Francisco State. She currently divides her time between San Francisco and southwestern France. Her articles about the joys of being in the great outdoors have been published online by Arizona Central, USA Today Travel Tips, Working Mother, Hunker, Go Banking Rates, Gardening Know How, Atlanta Journal Constitution and eHow,