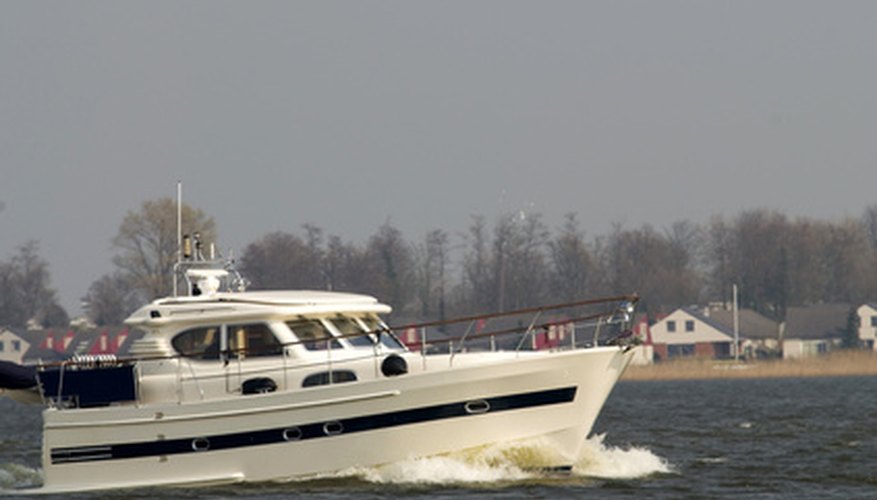 If someone lives in Ohio and keeps a boat, that person is legally obligated to register it, and, if it is over 13 feet, he must also title it. You can locate the boat owner by filing a title search request or taking the registration number to the agency and asking them to provide ownership information.
Ohio Boat Registration
Most types of boats must be registered in Ohio. While some states exempt smaller boats or vessels subject to national registration from their laws, Ohio does not. According to Ohio law, "registrations are required for every recreational boat in Ohio, including powerboats, sailboats, canoes, kayaks, pedal boats and inflatable boats." The only exceptions are for kiteboards, paddleboards, and belly boats (or float tubes), which many people might not classify as boats anyway.
Recreational boat registration in Ohio is not expensive. It costs only $20, for example, to register a boat without a motor. The fees for motorized boats depend on their size. Ohio registration fees go straight into the state's Waterways Safety Fund and are used to operate Ohio's boating program.
Ohio Registration Process
In order to complete Ohio boat registration, a boat owner must work through a Watercraft Agent, also called "boat registration agents." These are sprinkled throughout the state and include private businesses, title offices and DNR offices. You'll find a list of them by county on the Ohio State Parks and Watercraft website. A boat owner can use a boat registration agent and is not limited to an agent in his home county.
A person registering a boat in Ohio must show government identification to the watercraft agent. It's also necessary to have the hull identification number, boat number if previously registered, make, length, year of vessel and hull material.
Larger boats must also be titled in Ohio. Titles are required for all boats 14 feet or longer, outboard motors 10 horsepower or greater and PWCs (i.e., Jetski, Sea-Doo, etc.). Canoes and kayaks do not need to be titled.
Identifying Boat Owners
There are many reasons you may wish to identify the owner of a boat in Ohio. If you are in a boat hit-and-run accident or injured by a boat, you'll want to track down the legal owner of the boat. On the other hand, perhaps you see a boat you would like to buy. You may want to find the boat owner's name to contact her. Or, a boat may be abandoned on your property. Other scenarios when you need to identify a boat owner are easy to imagine.
Ohio makes the process of identifying a boat owner easy for titled boats. All you need to do is fill out a form called a Title Search Request and pay the $2 fee. Fill in all the information you have about the boat, like the registration number, the manufacturer and the hull number. Mail the form to the ODNR Division of Parks & Watercraft at the address given on the form.
If you want to find the owner of a boat that is registered but not titled, get the registration number of the boat. Registered boats display two square registration tags carrying the valid registration certificate on board the vessel. Take this number into the records office of the Ohio Department of Natural Resources, Division of State Parks and Watercraft. Ask a clerk to search registration information for you.
References
Tips
Use the U.S. Coast Guard database first to look for the Ohio boat owner information. It is a free service accessible 24 hours a day, 365 days a year.
BoatInfoWorld.com has a function to search for boats by state.
Writer Bio
From Alaska to California, Switzerland to Brazil, France's Basque Country to Mexico's Pacific Coast, Teo Spengler has camped, hiked, surfed and fished, and written articles lighting the way for others to do the same. A published novelist and professional writer, Spengler earned a BA from U.C. Santa Cruz, a law degree from U.C. Berkeley's Boalt Hall, and an MA and MFA from San Francisco State. She currently divides her time between San Francisco and southwestern France. Her articles about the joys of being in the great outdoors have been published online by Arizona Central, USA Today Travel Tips, Working Mother, Hunker, Go Banking Rates, Gardening Know How, Atlanta Journal Constitution and eHow,