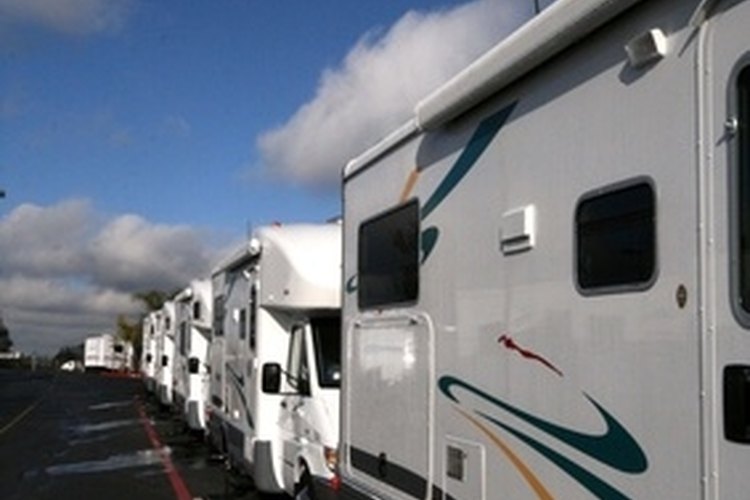 Making an RV feel like home without having to sacrifice your regular household amenities can be a serious challenge. With extremely limited space and the need for everything to stay put while in a moving vehicle, your space and what you put in it must be as efficient as possible. Make sure you choose items to put in your RV that are multi-use, add more storage space where you can and do your best to make use of every inch of built in storage space. By maximizing the available space in your RV, you can have all of your creature comforts while you're on the road.
Clear the Kitchen Counter
Since loose containers or items on the counter of an RV aren't safe, utilize the space between the counter and cupboards instead. In the kitchen, try adding a magnetic knife rack to save valuable drawer space. Add a hinged stove cover to provide a little extra counter space when not using the stove for cooking. As an added bonus, the cover will also keep the stove cleaner. Hanging banana hooks beneath the upper cabinets will keep fruit fresh for longer and will also hold them securely while traveling. Make use of under cabinet hanging space as much as possible.
Install a Combination Washer/Dryer
If you do not currently have a washer or dryer in your RV, this may not seem like a space saving tip at all, but think of how much space, time and hassle having a combo washer/dryer machine would save you. Instead of traveling with a second set of sheets and blankets, you could wash yours as needed without getting quarters and spending a day at the Laundromat. You could also pare down your wardrobe knowing that you can wash your clothes as often as you like. Having a dual-purpose unit instead of a stackable set frees up the space above it for hanging clothes or additional shelves.
Maximize Vertical Space
Hang baskets inside your cabinets to utilize the space toward the top. Hanging wire baskets above one another on the side of a cabinet will still allow for the storage of taller items on the opposite side, and shorter items like spices in the baskets. If there is any space above your upper kitchen cabinets, don't use it for decorative plants -- use it for boxed groceries. Set cereal boxes and other sturdy pantry items on top of the cabinets and free up a bunch of cabinet space in the process. If you are concerned about these items sliding during travel, secure them with a bungee cord.
Stock up on Over-the-Door Organizers
Over-the-door organizers, usually marketed for shoe storage, are excellent for keeping clutter to a minimum while providing a spot for anything that will fit inside. Easy to modify to any size, these can be hung from a wall rather than a door with a few washers and screws. Hang one in the bathroom to provide extra storage space for toiletries and personal care products that won't fit in the medicine cabinet. You can cut one into a single column and hang them next to the bed, or in a single row to hang on the wall inside the bunks of your RV. Since traveling in an RV usually means you don't have a nightstand to set your bedtime reading on, a handy re-purposed shoe organizer is an excellent substitute.