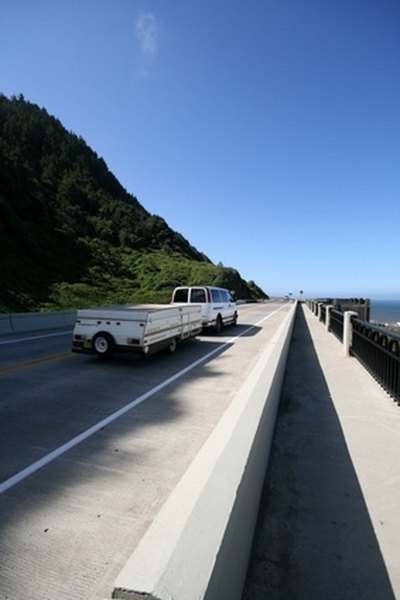 A pop up camper awning extends your living space to the outdoors while traveling by offering protection from the harsh sun and light rains. Certain regions and seasons, however, bring a lot of extra bugs and critters to your favorite campsite. Add a screen room to your Coleman pop up awning for a more functional, insect-free area where you can comfortably cook and serve meals, play cards or simply hang out and relax. It takes a short time to install a screen room and can be accomplished by one adult.
Items you will need
Screen room

Ridge support poles

Stakes
Raise your Coleman pop up and awning to a workable height. Put up the ridge support poles. Unfold the screen room and lay with the vinyl wall facing outward.
Attach the front of the screen room to the center ridge pole. Put the center ridge pole back in the awning.
Begin at one corner and attach the front wall of the screen room to the support channel inside the awning by pressing the Velcro pieces together. Fasten the snap fasteners on the front panel to the awning support bar.
Remove the ridge pole on one side of the screen room and put the end of the pole into the pocket on top of the room panel. Tie on the pole with the attached straps. Put the ridge pole back into the awning and raise to desired height. Repeat for the other side of the screen room.
Press the Velcro pieces together on the awning vinyl to attach both side walls. Zip the side wall panels to the front panel. Attach the screen room to the awning legs by tying the attached straps.
Fully raise the pop up camper and awning. Attach one end of each shock cord to the body rail near the awning lift arms and hook the other end onto the lashing hook located on the lower body panel flange.
Press the Velcro of the screen room bottom skirt to the curbside body panels and door access. Zip the zippers closed on the ends of the skirt. Attach the wheel well flap by pressing the Velcro pieces together.
Face the rear skirt flap toward the outside of the screen room and the other ground flaps toward the inside of the screen room. Stake the ground flaps to the ground. Put ridge poles and awning poles into a locked position.
Writer Bio
Kimberly Dyke is a Spanish interpreter with a B.A. in language and international trade from Clemson University. She began writing professionally in 2010, specializing in education, parenting and culture. Currently residing in South Carolina, Dyke has received certificates in photography and medical interpretation.