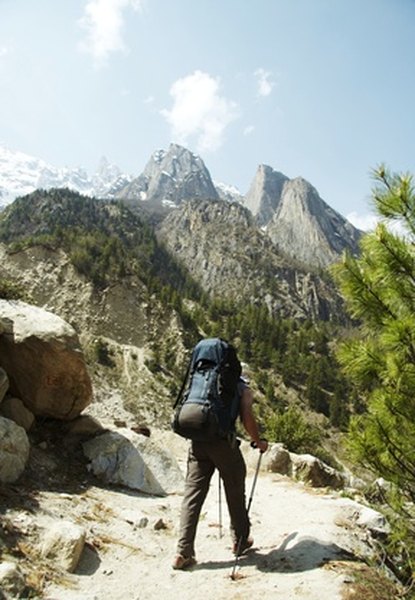 Kelty produces a variety of backpacks, which range from small day packs to large backpacking packs. On the packs, it uses many different styles and sizes of plastic buckles. Although plastic buckles are durable, they do occasionally break. Usually the break results from an impact, like being slammed in a car door or by being stepped on. You must replace a broken plastic buckle, because once broken no repair holds. Broken buckles are easily replaced.
Items you will need
Replacement buckle

Quick attach buckle

Wire cutter
Buckle Repair
Step 1
Determine the type and size of the buckle. This varies based on the buckle's location, style of pack and the model year. It's best to replace a buckle with the same type, but some different types of buckles are compatible with others. It's best to try the replacement buckle with your pack before buying. When shopping for a replacement, look for a "side release buckle" for buckles that snap together, or a "ladder lock buckle" for those that hold a threaded piece of nylon webbing in place.
Step 2
Determine whether the buckle is sewn to the pack. If it's sewn in place, you'll need to rip the stitching out to replace it to factory specifications. Usually, the stitching is part of the pack's seam, and ripping it out might void your warranty or weaken an important part of the pack. Instead of ripping the stitching out, consider using a "quick attach buckle."
Step 3
Slide the unsewn, broken buckle off the end of the nylon webbing. Before it's completely off, look at how the webbing slides through the buckle.
Step 4
Slide the replacement buckle onto the strap. Replacing it with the webbing running the same direction as the buckle you took off.
Repair with a Quick Attach Buckle
Step 1
Use a wire cutter to snip the plastic piece holding the broken, sewn-in buckle to the Kelty backpack. Once snipped, remove the buckle from the webbing loop and throw it away.
Step 2
Look for the gap in the plastic on one end of the quick attach buckle. That gap allows you to attach the new buckle to the webbing loop without having to remove the stitching.
Step 3
Slide the webbing loop on your backpack through the gap in the plastic buckle until the buckle is attached to the loop.
References
Writer Bio
Bryan Hansel is a freelance photographer and kayaking guide who began writing in 1993. His outdoors articles appear on various websites. Hansel holds a Bachelor of Arts in English and religion from the University of Iowa.