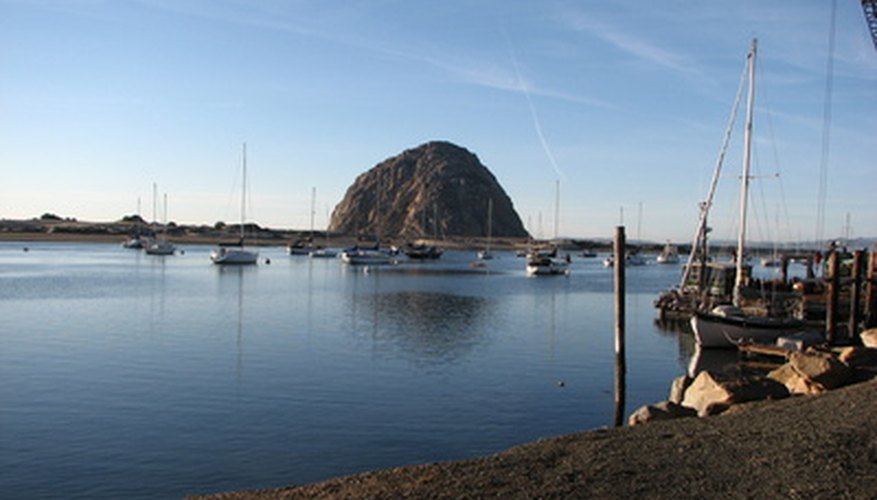 Rock crabs can be found throughout California's 840-mile coastline. There are three species--the yellow, brown and red rock crabs, with the brown being the most abundant. Although they are not as sought after as the Dungeness crab, rock crabs can be fished commercially and recreationally throughout the year. Regulations and licenses for catching rock crabs in California help protect their population and ensure their survival for future crab lovers.
Identification of Rock Crabs
Rock crabs are easily identifiable, compared with other crab species, along the California coast. The crab's name originates from its likeness to rocks, with a dark red-brown body and black pincers. Compared with other crabs, the rock crab has large, smooth pincers, containing the prized meat. An adult rock crab measures, on average, six to eight inches across the width of its back. The one distinguishing feature is an abundance of small red spots on the crab's underside.
California Recrational Fishing License
Anyone catching rock crabs in California waters must possess a valid fishing license. Regulated by the California Department of Fish and Game, Californian fishing licenses are required for any resident or non-resident 16 years or older. Residents can obtain a one-day, two-day, annual or lifetime license, while non-residents can obtain a one-day, two-day, 10-day or annual license. Fees vary, and non-resident fishing license are more costly.
California Department of Fish and Game 20 Lower Ragsdale Drive Suite 100 Monterey, CA 93940 dfg.ca.gov
Additional License Requirements
In addition to a California fishing license, those wishing to catch rock crabs south of Santa Barbara County are required to purchase an Ocean Enhancement Stamp at a cost of $4.75, as of 2010. Those who have purchased a one- or two-day fishing license are exempt from this additional requirement.
Commercial Rock Crab Fishing
Those catching and reselling rock crab must obtain a commercial fishing license. The licenses are valid for one year from the date of purchase. Those fishing from a boat must also register, for a fee, their vessel with the California Department of Fish and Game. Commercial rock crabbers are required to purchase trap endorsements based on which waters they intend to fish--a southern endorsement for vessels operating south of Lopez Point in Monterrey County and a northern endorsement for any point north.
Size and Bag Restrictions
All rock crabs must measure at least 4.25 inches wide across the back for commercial fishing. All commercial traps for rock crabs are required to be checked every 96 hours, and the traps must have a 3.25-inch escape ring for immature crabs. Recreational fishing of rock crabs require a 4-inch minimum, and no more than 35 crabs can be taken in a single day.
References
Writer Bio
Richard Ludwig has been a writer for over eight years and has had his work published in "Co-Ed Magazine," the "East Manatee County Observer" and the Disaster and Recovery e-magazine. He received journalism and sociology degrees from the University of South Florida.