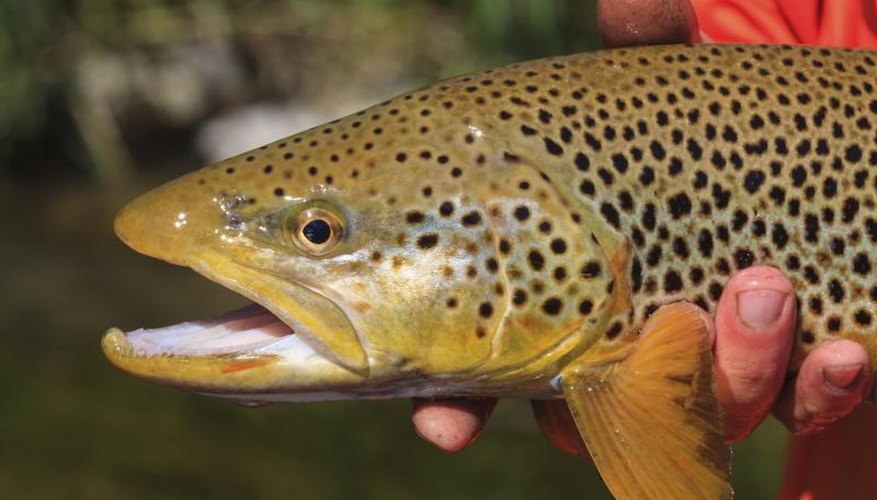 Southern California is a wildly varied region, ranging from arid deserts to lush mountains and sprawling coastal cities. Trout fishing opportunities in SoCal are equally varied, and anglers can find substantial catches in the trickling streams of the San Bernardino Mountains as well as the vast reservoirs that dot the landscape around San Diego.
Streams and Rivers of Los Angeles
It's been decades since the heavily developed Los Angeles River -- once a major spawning ground for steelhead trout -- has offered any significant trout fishing opportunities. Fortunately for anglers, several other rivers and streams in the L.A. area still harbor significant trout populations. The San Gabriel River is one of the best trout fishing spots in the area, and the river's east and west forks are accessible through Angeles National Forest. Rainbow trout in the 8- to 10-inch range are fairly common, though fish larger than 12 inches are rare. Some of the best spots are accessible only on foot or by bicycle, and maps are available through the U.S. Forest Service. Other trout streams in the Los Angeles area include Piru Creek, Big Tujunga Creek, Sespe Creek and Bouquet Canyon Creek.
San Diego Lakes
The city of San Diego is surrounded by lakes, many of them large, man-made reservoirs with deep, clear water that makes them perfect habitat for trout. Lake Cuyamaca may be the best of the lot, and the California Fish and Game Commission stocks this 110-acre lake with 45,000 pounds of rainbow trout annually. Rainbows weighting 4 pounds are not uncommon, and smaller fish weighing a pound are less are very abundant. The much larger Diamond Valley Lake is another top spot. The lake's 4,500-acre size can make it more difficult to find fish, but anglers have pulled rainbow trout in the 10-pound class from its depths. Other trout fishing lakes in the San Diego area include Lake Hodges, Lake Wohlford and the Santee Lakes.
Trout Fishing in the San Bernardino Mountains
A strong case could be made for the San Bernardino Mountains as the best trout fishing region in Southern California. Largely contained within San Bernardino National Forest, the mountains are home to stocked trout lakes along with trickling mountain streams that contain both wild and stocked fish. The California Fish and Game Commission regularly stocks trout in Lake Arrowhead, along with nearby Big Bear Lake and Green Valley Lake. Deep Creek is one of the premier wild trout streams in Southern California, but access can be difficult, and you'll have to travel on foot to reach some of the best spots. Look for wild brown trout in the lower reaches of the stream, and big rainbows above the confluence with Holcomb Creek. Big Bear Creek is also an option, with brown trout, rainbow trout and the occasional salmon.
Know Before You Go
A current California fishing license is required to fish for trout in all Southern California waters. You can obtain a license through the California Fish and Game Commission website, or at most bait and tackle shops across the state. In addition, the U.S. Forest Service requires visitors to obtain an Adventure Pass to access many areas of Angeles and San Bernardio national forests. Details are available on the Forest Service Website. Southern California steelhead trout are considered endangered, and must be released immediately if caught. The Fish and Game Commission issues a free annual pamphlet containing detailed fishing regulations. This pamphlet is available through the Fish and Game Commission website, and anywhere fishing licenses are sold.
References
Writer Bio
When Richard Corrigan isn't writing about the outdoors, he's probably outside experiencing them firsthand. Since starting out as a writer in 2009, he has written for USA Today, the National Parks Foundation and LIVESTRONG.com, among many others, and enjoys combining his love of writing with his passion for hiking, biking, camping and fishing.