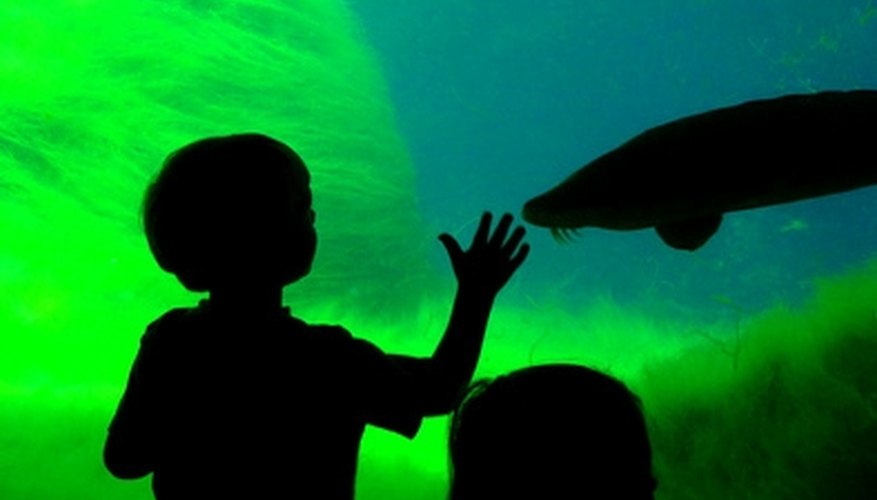 Sturgeon are the largest freshwater fish in North America; they can grow to be over 1000 pounds and they can live 100 years or more. California is home to both white and green sturgeon though it is illegal to catch and keep the green species. White sturgeon can be fished in many of the state's freshwater lakes and rivers and also off its Pacific coast. California sturgeon are sometimes referenced by region; "pacific sturgeon," "Sacramento sturgeon" and "Columbia sturgeon" are common classifications.
Sturgeon
Sturgeon are anadromous, living part of their lives in fresh waters and part in salt waters. They tend to like brackish waters, and California fishing authorities suggest that the best season to fish them is the beginning of winter to early summer when the waters are murky. They have been caught at depths ranging from 14 to 80 feet. Sturgeon are mild-flavored and they are boneless, so they can be easily cut into steaks that can be broiled, baked or fried.
Equipment
Fishing sturgeon usually requires heavy tackle. A typical rod is a 7-foot "e-glass" rod with 20 to 60-lb. test line. Given the size of the fish, you want your rod to be durable, but you also want it to be light enough to hold comfortably, and a sensitive tip is important to detect the presence of the fish. According to Ken Jones of the Pier Fishing in California website, in addition to your rod you will need "a sliding bait leader, and live bait such as a ghost, mud, or grass shrimp." Casting reels are more common than spin reels, and be sure to bring plenty of line as this fish can really run; you should be prepared for a 100-yard dash
Locations
Sturgeon in California can be found in the Delta, Sacramento Valley, San Pablo and West Delta areas. Popular fishing spots in the San Joaquin Delta area include the Sacramento River, the Decker Island entrance to Three Mile Slough, Rio Vista Bridge, San Pablo Bay, the Isleton Bridge, the Mothball Fleet area, Cache Slough and the waters surrounding Liberty Island. In California it is also common to fish off public and private piers; you can catch sturgeon off piers in the San Francisco and Humboldt Bay areas.
Regulations
Fishing sturgeon in California requires a sport fishing license and a sturgeon report card, which must be kept on your person while you are fishing. California regulations stipulate that sturgeon 4 to 6 feet in length may be kept, though you are only permitted to catch one sturgeon per day, and three per year. It is illegal to alter the shape or appearance of fish to avoid identification. There may be special fishing restrictions enforced on particular bodies of water at particular times, and it is recommended that those interested in fishing sturgeon contact relevant authorities for the latest regulatory information.
Fees
An annual sport license is $41.50 for residents and $111.85 for non-residents. One-, two- and three-day fishing permits are available for $13.50, $20.75 and $41.50. A sturgeon fishing report card is provided with your license at no additional cost.
Considerations
A "peeler" is an oversized sturgeon, and if you fish the species long enough you are sure to come across one. These fish will spool your reel and they are typically unstoppable. When you snag one, you can either pursue the fish or cut your line. While these fish may be exciting to fish they must be released when caught.
References
Writer Bio
Based in Ottawa, Canada, Chris Wolski started writing professionally for non-governmental organizations in 2007. He has written communications material for marketing firms and small businesses, and he has published articles for various websites. Wolski received a national coaching certification in 2001 and a Master of Arts in political science from York University in 2007.