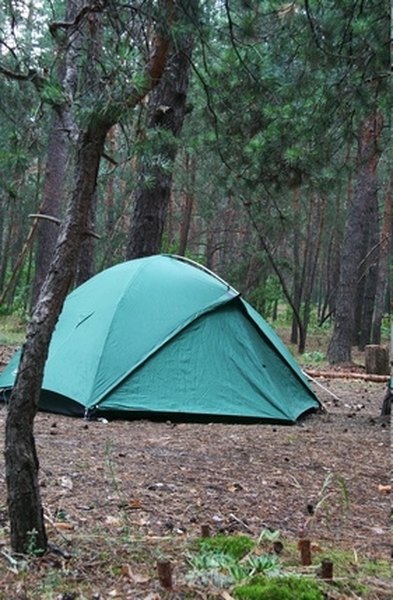 Quest Tents are a line of quick assembly tents used for camping or other out door activities. Quest Tents are equipped to house anywhere between two to eight people depending on the model of your tent. Quest Tents contain a waterproof material that provides cover and shelter against rain, snow or cold winds. Set up your Quest Tent in an area clear of sharp objects that may penetrate the tent material causing leaks or holes in your tent.
Items you will need
Fiberglass tent poles

Ring and pin locks

Hammer

Quest tent cover

Ground pegs

Tent string
Remove all contents of the Quest Tent from the tent bag. Separate the poles from the tent cover and pegs.
Untie the strap that secures the tent cover. Unfold and spread out the tent cover.
Insert one end of the tent pole through the looped sleeve on the front of the tent cover. Push the pole all the way to the end of the sleeve. The poles are secured using a ring and pin system. The pin is secured onto the ring like that of a key chain. Attach the pin to the ring of the tent cover at the end of the sleeve. Repeat this step, inserting and securing the tent poles into the center sleeve and sleeve at the other end of the tent.
Use pegs to pin the tent cover to the ground. Use a hammer to drive the pegs into the ground to stabilize the tent in case of windy weather. Tie the tent strings to the pegs in the ground.
Writer Bio
David Shaw has been writing professionally since 2006. He has featured music-related articles in "Connections" and "Axis Magazine." Shaw attended Florida State University where he majored in communications and he was granted a certificate of completion from Full Sail Real World Education for the recording arts program.