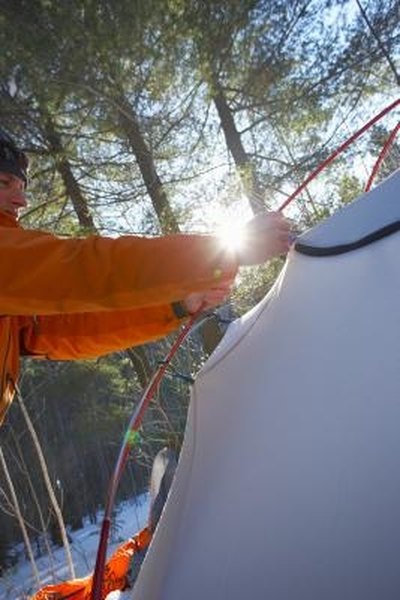 The Northwest Territory Vacation Cottage tent was manufactured for Kmart by North Pole Limited. Sturdy construction and a rain fly make the large, 14-by-14 feet cottage tent weather resistant for a comfortable camp out in the elements. Mesh windows offer ventilation, and the high ceiling means no more stooping and crawling into your tent. Two adults can assemble this tent in a short time and have you off to your outdoor adventures.
Spread out the tent body on a smooth and level surface. Clear away any sticks, rocks or sharp objects. Separate the tent poles into groups.
Put the roof ridge poles together. Slide the hubs onto the poles, and secure them by allowing the spring to pop through the slot underneath the hub. Slide the gable poles into the openings on the hubs. Lock each gable pole by popping the spring through the hub slot.
Attach the "S" hooks from the tent fabric to the holes in the corresponding hubs along the peak and perimeter of the roof frame. Locate the plastic clips sewn onto the tent body and attach them to the tent frame. Attach the support straps over the roof ridge poles.
Slide the end of the leg poles with the spring into the hub sockets on the roof frame. Put the opposite end of the pole into the pin-ring at the base of the tent. Slide the curved eave tent poles into the hubs, locking the springs into the slots. Attach the plastic clips to the tent poles. Connect the fabric fasteners on the tent body to the tent frame.
Spread the rain fly over the tent roof. Slide the eave pole tips into the pole pockets on the rain fly.
Secure the tent with stakes and guy lines. Pull the guy lines tight. Install the shelf and divider walls inside the tent with "S" hooks and fabric loops.
Practice assembling the cottage tent at home before going camping.
References
Tips
Practice assembling the cottage tent at home before going camping.
Writer Bio
Kimberly Dyke is a Spanish interpreter with a B.A. in language and international trade from Clemson University. She began writing professionally in 2010, specializing in education, parenting and culture. Currently residing in South Carolina, Dyke has received certificates in photography and medical interpretation.