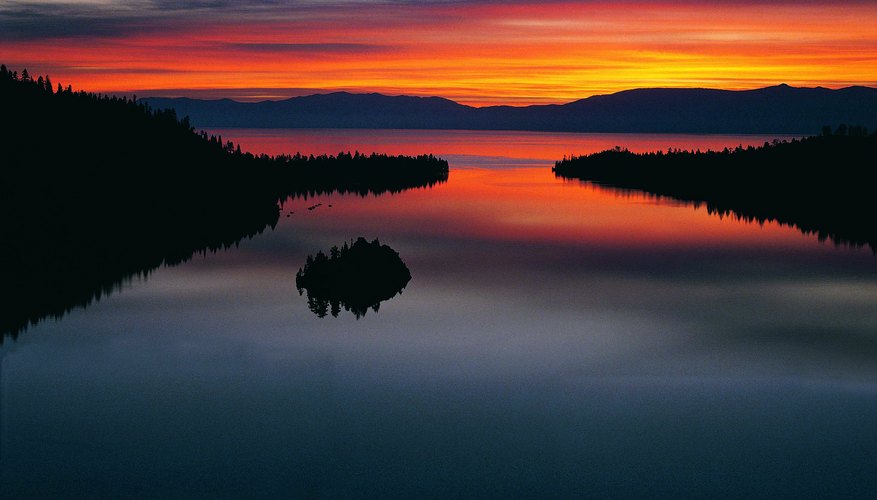 California is one of the most diverse states in the U.S. Home to desert, forests and mountains, it also boasts some of the country's most impressive waterways. There are several major lakes and rivers in California that are also popular tourist destinations, providing breathtaking scenery as well as opportunities for fishing and water sports for those who like the outdoors.
Sacramento River
The longest river in California, the Sacramento River stretches 377 miles, beginning in the northern part of the state and flowing down to the Suisan Bay near San Francisco. Several significant rivers act as tributaries along the Sacramento River's course, including the McCloud River, the Pit and the Yuba. Thanks to its size, the Sacramento River is a popular location for boating, fishing, hiking and camping, and there are many recreational parks and campsites alongside it.
San Joaquin River
The San Joaquin River is a major river in central California. It begins in the Sierra Nevada, stretches west and, after 350 miles, joins the Sacramento River. The two rivers then flow into the Suisun Basin. The river is home to several wildlife refuges and wetlands, including the San Joaquin Freshwater Marsh Reserve. The river is also an important source for sustainable energy and has several hydroelectric dams.
Salton Sea
Misleadingly named, the Salton Sea is actually a lake in southeast California. It is the largest lake in California and sits in the middle of the Colorado Desert. According to the Salton Sea Authority, the lake is "terminal," which means it has no outlets. It sits below sea level and has a high salt content caused by runoff from the Colorado River. It is very important for the desert's ecosystem and is a good destination for fishing and bird watching.
Lake Tahoe
Lake Tahoe sits high in the Sierra Nevada on the border between California and Nevada. The largest lake at its height in the U.S., the lake never freezes despite its altitude. It is 22 miles long and 12 miles wide, with an enormous depth of 1,645 feet. Although it has 63 tributaries, it only has one outlet, the Truckee River. The water of the lake is unusual in that it is 99 percent pure. According to Lake Tahoe, an information site about the area, you would be able to see a white dinner plate 75 meters below the surface as the water is so clear.
Shasta Lake
Just as the Salton Sea isn't actually a sea, Shasta lake isn't really a lake. Instead, it's the largest reservoir in California, with a shoreline stretching 270 miles. The reservoir was created by a dam, built where three tributary rivers join the Sacramento River near Redding in northern California. The lake is popular with boaters and fishers, as well as water sports enthusiasts. It is surrounded by campsites and guest houses for visitors.