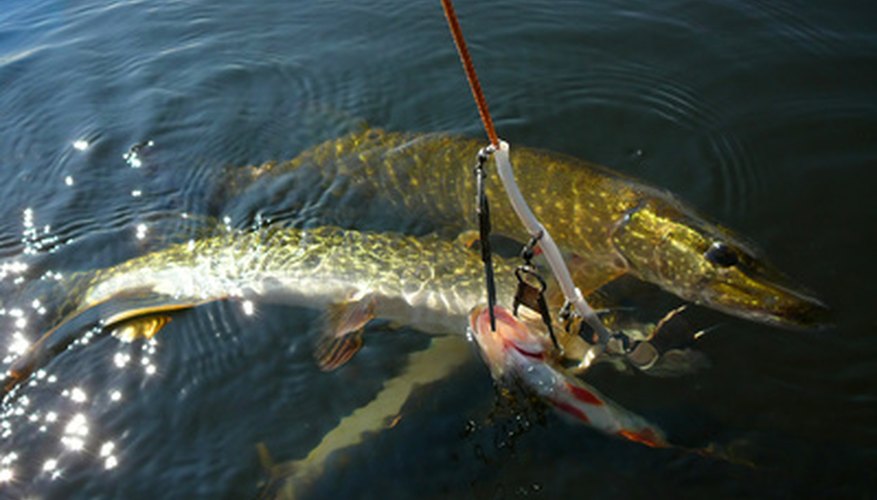 The self-proclaimed "Queen of American Lakes", Lake George in New York offers anglers of all experience levels a chance to reel in some impressive-size fish, including northern pike. Called "nature's water wolf", the northern pike is an aggressive, long-nosed freshwater spotted fish that can grow to 20 pounds in Lake George. This 32-mile-long and 3-mile-wide lake flows into Lake Champlain on the way to the St. Lawrence River and then the Atlantic Ocean.
Where to Find Pike
Northern pike is found in the shallow, weedy parts of Lake George along the shores of the various bays in both the more populous south and the more remote north basins. Dunham's Bay, Huddle Bay, Basin Bay, Andrews Bay and Northwest Bay offer such shallow water in the south basin. Dark Bay, Indian Bay, Sunset Bay and Mossy Point do so in the north basin. The same locations that attract northern pike also are home to large-mouth bass in the spring and fall. During warmer summer months, pike can be found in deeper waters in the middle of the lake.
Bait
Live bait is best for catching voracious large northern pike, and pike prefer foot-long suckers, perch, shiners and large minnows. Spoons and spinners are the best artificial lures to attract and catch pike. Other artificial pike lures that can be used include jointed rapalas and muskie plugs for trolling and divers and flies. Area guides recommend live shiners for surface casting in weedy shallows in spring and fall and trolling using a monofilament line in deeper waters in the summer. Anglers should keep in mind, however, that in order to protect native Adirondack fish and their aquatic environments from disease and invasive species, the use of bait fish is prohibited in some areas of Lake George, as is the releasing of bait fish in Lake George area waters. Such areas are clearly marked.
When to Fish
Although Lake George has no closed season for fishing, the best times for catching pike are spring and fall, when fish are on the move. July and August are good months for pike fishing in the deeper waters in the middle of the lake. Ice fishing can yield good trout catches but is not for pike fishing.
Lake Access
There is easy boat access from many commercial boat launches on the lake for local guided fishing expeditions. Numerous locations provide boat rentals as well as docks for those who want to fish without guides. The lake also features numerous stretches where anglers can access the shoreline as well as designated swimming and camping areas. All boats must be registered with the Lake George Park Commission; registration can be done by mail, in person at the commission office or at local vendors such as marinas and sporting goods stores and county clerk offices. Application and information can be found at http://www.lgpc.state.ny.us/.
Fishing Licenses
Fishing licenses are required for everyone over the age of 16. There are resident and non-resident licenses, lifetime licenses, free fishing days and free fishing licenses for certain individuals. Fishing licenses must be carried at all times while fishing. An application, license fee, photo identification and proof of residency (for residents) are required to obtain a fishing license. Licenses can be purchased online, by phone or by mail from New York State Department of Environmental Conservation, and at many sporting goods stores and town clerk offices.
References
"Pike: An In-Fisherman Handbook of Strategies", Al Lindner, 1984
"Gone Fishin': The 100 Best Spots in New York", Ronald Lawrence Bern, Manny Luftglass,
Writer Bio
Heidi Cardenas specializes in human resources, business and personal finance, small-business advice, home and garden and home improvement. Her professional background includes human resources and business administration, technical writing and corporate communications. She has studied horticulture and business administration, and enjoys guest blogging for publications including Herb Companion Magazine, Natural Home Living Magazine, and Mother Earth Living.