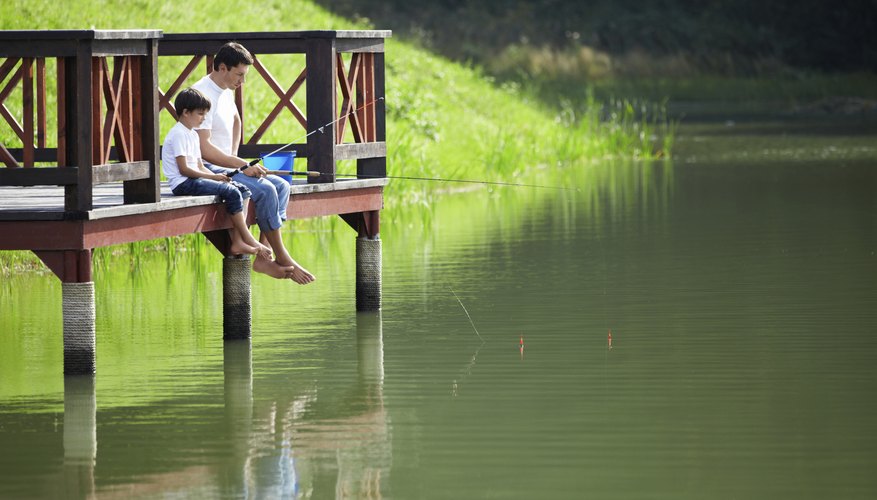 Alabama is one of the best states in the country for catfish fishing, with options ranging from vast reservoirs to tiny local ponds. Small bodies of water provide opportunities to catch channel catfish ranging from 5-pound table fare to monsters in the 25-pound class. Many small lakes also harbor blue catfish and flathead catfish, but these species generally prefer rivers and deep reservoirs.
Local Fishing Holes
The Alabama Department of Conservation and Natural Resources manages dozens of lakes and ponds across the state, providing public access to some of Alabama's best fishing. Public lakes with catfish include 53-acre Crenshaw County Lake, 37-acre Marion County Lake, 84-acre Washington County Lake and the Clay County Lakes Chain, which includes three neighboring lakes ranging from 13 to 38 acres. These lakes all include ample shore access, wheelchair-accessible fishing piers, boat rentals and launch facilities for private boats. A complete list of state-managed fishing lakes is available through the Alabama DCNR website.
Fishing Tips, Tricks and Tactics
The advantage of fishing a small lake or pond is that you can often catch catfish right from shore, which can be difficult in large lakes and reservoirs. Fishing for catfish in Alabama typically peaks during the summer months, especially in small waters, but you can catch them year-round. Cloudy, overcast days are best, and some of the most productive catfish action often takes place at night. Focus on deep holes, submerged wood cover and shallow flats with deep water nearby. Catfish hunt by smell and taste rather than sight, so cast smelly, natural baits like chicken livers, nightcrawlers, cut-bait or prepared dough baits.
Miles of Open Water
As productive as small lakes can be, Alabama's larger lakes are generally the ones known for producing the biggest catfish. The state's record catfish -- a 120-pound blue catfish -- was caught from 3,300-acre Holt Reservoir in Tuscaloosa County. Lake Eufala, Lake Wheeler and Demopolis Lake are also known for producing lots of big cats. Public fishing access sites and boat launches are available on all these lakes, along with privately owned marinas and charter fishing services.
Know Before You Go
A current Alabama fishing license is required to fish for catfish or any other species across the state. Licenses are available through the Alabama Department of Conservation and Natural Resources website and at most bait and tackle shops statewide. The DCNR also publishes a free annual fishing regulations guide. State-owned public fishing lakes often have location-specific limits and other regulations, in which case they will be posted at the public access site. Boats on state-owned lakes are typically restricted to electric motors and nonpowered craft, but you can operate a boat with unlimited horsepower on larger lakes and reservoirs.
References
Writer Bio
When Richard Corrigan isn't writing about the outdoors, he's probably outside experiencing them firsthand. Since starting out as a writer in 2009, he has written for USA Today, the National Parks Foundation and LIVESTRONG.com, among many others, and enjoys combining his love of writing with his passion for hiking, biking, camping and fishing.