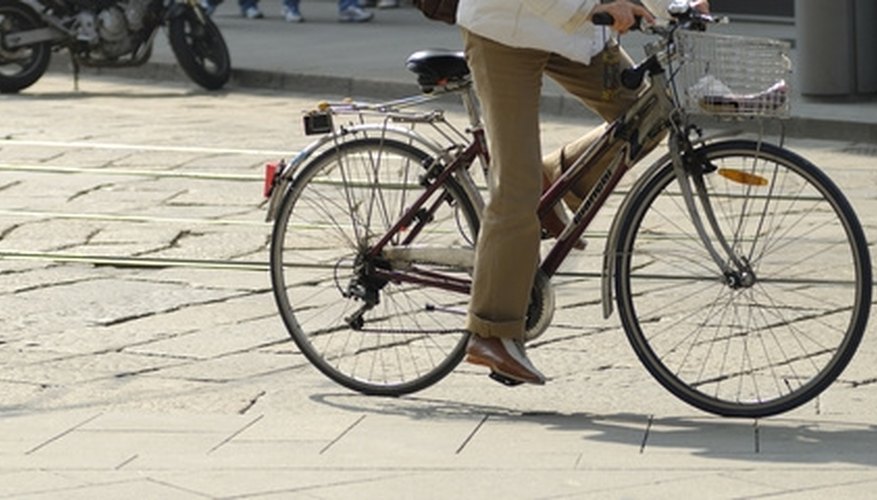 Buying someone a bike can be a way of encouraging them to exercise and increase fitness levels. Bikes can be purchased online or in stores that specialize in sports equipment. When choosing a bike for a 50-year-old woman, ask the right questions so you can pick a bike that will fit her requirements. This includes finding out what type of cycling she is interested in and what size of bike will she need. You may also want to choose a bike that has been made specifically for a woman to ensure that it is comfortable to ride.
Find out what type of cycling she is interested in doing. People who enjoy using cycling as a form of transportation will be fine using a road bike, whereas people who plan to cycle along towpaths and surfaces other than tarmac will generally require a hybrid bike. A touring bike is ideal for long distance journeys both on and off-road, although for rough or rocky terrain you will require a mountain bike. Different bikes are suitable for riding on different surface types and this is due to a number of factors including the width of the tires, the level of the handle bars and any features that make the bike practical for its function.
Choose a bike that will be a suitable size for the person who will be riding it. If you want the bike to be a surprise for the recipient, take a female friend (of a similar height to the woman you are buying the bike for) with you when purchasing a bike so she can try out a few different models to find out which one will be the most comfortable.
Focus on a type of bike that has been specifically designed for women. A woman is more likely to have longer legs and a shorter midsection than a man of a similar height. A woman is also more likely to have smaller hands, a shorter width between the shoulders and a pelvic structure that differs from a man's. Therefore, a bike that has been made specifically to suit a woman's body shape will often feature narrower handlebars, shorter brake handles and a wider seat, making it more comfortable for a woman.