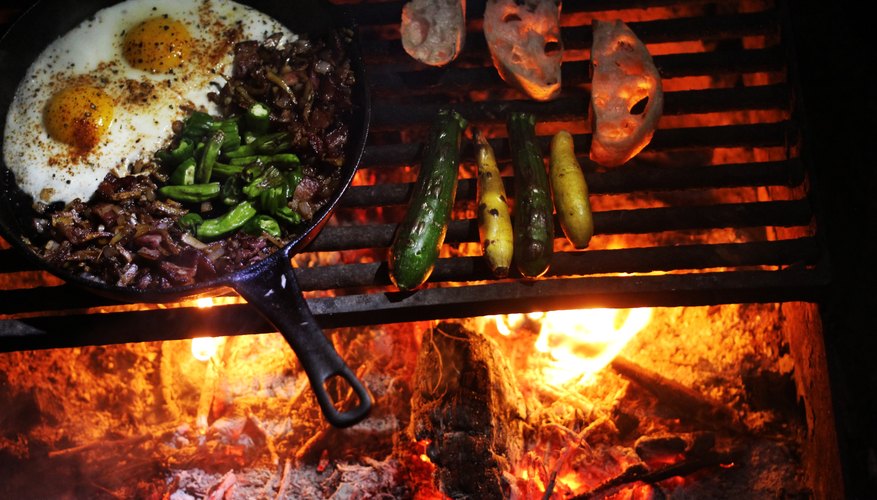 When preparing meals while camping, you don't have all of the amenities you would in a normal kitchen. Often times, the only means of cooking food is a fire pit with a grill grate or perhaps a portable propane stove. If you are heading out on a 10-day camping trip, meals need to be simple, as refrigeration is unavailable and the ice packs thaw out early on. With some basic planning, creating a menu for a ten-day camping trip is not too difficult.
Equipment
If refrigeration is available at any point on your long excursion, any of the following dishes can be used on any of the days. If not, then the food that is perishable and needs to be kept chilled needs to be eaten early in the trip. If you plan to bring milk or meat products, invest in quality coolers and ice packs that will keep your food edible for at least a few days. After that, you will need to turn to vacuum sealed or nonperishable items for the remainder of your trip.
Breakfast
Breakfast for 10 days while camping isn't too difficult. Some of the easiest breakfast foods to make while camping are eggs, bacon and hash browns. Potatoes will easily last for 10 days, and vacuum-sealed bacon should last most of the time as well. All are easy to cook on a griddle placed over a campfire or portable propane stove. A great breakfast idea is a dish called "shipwreck," in which scrambled eggs, hash browns and sausage links are all cooked together in one pan. Sprinkle some shredded cheddar cheese for a delicious easy breakfast. It's also easy to bring cold cereal, muffins and dry pancake mix that only needs water for mixing.
Lunch/Dinner
Zip-packs are common among campers. A zip-pack is a collection of ingredients packed into aluminum foil and placed in the embers of the fire. Easy ingredients to use are hot dogs, canned potatoes, instant rice and canned vegetables. Each member of the party can customize their own pack to eat for dinner. The more canned food you bring, the more options you will have for the course of the trip. It is also simple to grill meats over a fire, but these may need to be cooked earlier in the trip while the food is still chilled. Sausages can be skewered and roasted over the fire, and vegetables can be added to make kabobs.
Dessert
You can't go camping without making s'mores at some point on the trip. S'mores consist of roasted marshmallows placed between graham cracker halves with a square of chocolate added. Another dessert, similar to zip-packs, is a banana boat. Wrapped in aluminum foil and placed in the fire embers, you can add bananas, chocolate chips, marshmallows, cherries and various nuts for a melted treat. Another delicious dessert is a pudgy pie, which is pie filling between two pieces of bread, roasted over the fire in a pie iron.
Non-Cook Trail Food
Some of the best foods for campers are the ones you don't need to keep cool or cook. Nuts, granola, chocolate, dried fruit and jerky-style meats are easy to pack and don't add too much weight to you pack. A zipper top plastic baggie is all you need to store these great protein sources that provide plenty of energy while on the go in the wild.
Writer Bio
Chris Callaway started writing professionally in 2007 and has worked as sports editor, managing editor and senior editor of "The Racquet" as well as written for the "La Crosse Tribune" and other newspapers in western Wisconsin. He graduated from the University of Wisconsin-La Crosse with a Bachelor of Arts in English and communications.