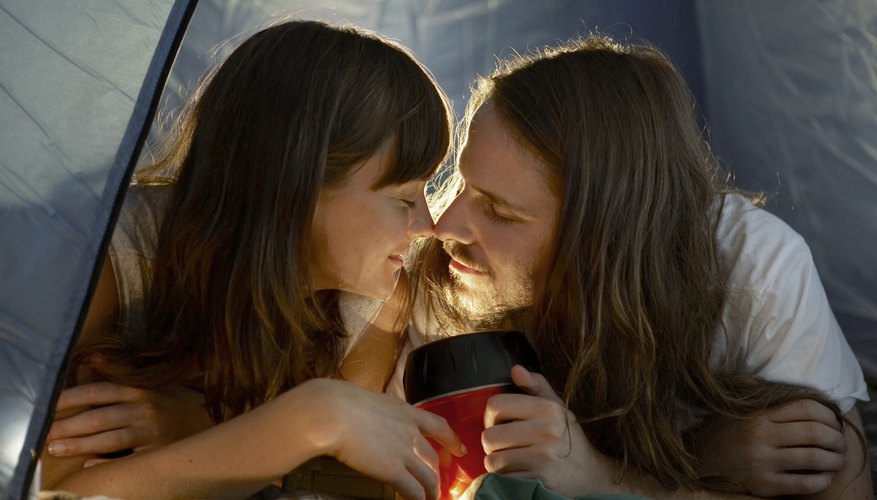 A romantic night in a tent is a fairly inexpensive way to show your partner you care about her and have taken the time to create an intimate setting. You can pitch a tent in your own backyard, or block out a weekend to explore a local state or national park together. Choose daytime activities that aren't so strenuous that you'll feel like conking out when the sun sets. You'll want to save up enough energy to enjoy the nighttime sky, a blazing campfire and the company of the person for whom you've planned your intimate excursion.
Make a reservation at a romantic setting, such as a secluded wooded area, the beach or a campsite near a natural hot spring. Select a campground that doesn't get populated with RVs, partiers or families. When making reservations, request the spot farthest from the entrance to make your stay more private. Campgrounds are usually less crowded during the week than on weekends. You can also book a campsite during a non-peak month, but make sure the weather won't be so rainy or cold that you won't enjoy yourselves.

Test your tent before your romantic evening. Make sure you have all the parts and that the tent doesn't have any holes or tears. You won't want your romantic getaway ruined due to an unstable tent or a nighttime mosquito infestation.

Invest in a quality tent pad and sleeping bags. Romantic Camping, a website that teaches the art of intimate camping trips, suggests purchasing two sleeping bags of the same model and brand and zipping them together. "Comfort is the bottom line," the site explains. "To optimize your comfort, be sure the sleeping bags you use are warm, spacious and can easily zip together."

Bring gear and supplies that create a comfortable, romantic atmosphere. Take along tea light candles in Mason jars; several camping lanterns; nice pillows, linens and towels; elegant dishes, silverware and glassware; and sexy clothing to wear in the evening. You don't need to look frumpy during the day, however. Choose outfits that are attractive but also feel comfortable and protect you from the elements.

Create a romantic menu. You don't have to buy expensive items. Your partner might appreciate your bringing his favorite foods more than a $150 jar of caviar. Start your dinner with a glass of good wine and a romantic appetizer. "Amuse the mouth: Prepare a small little nibble, or in restaurant-speak, an amuse bouche, to tempt your lover before your seductive dinner is served," says Diane Brown, author of "The Seduction Cookbook: Culinary Creations for Lovers." For your evening meal, bring steak, chicken or seafood, along with plenty of vegetables. Bring a homemade or store-bought dessert such as chocolate cake, truffles or cherry pie. For breakfast, take along his favorite morning coffee or tea, fresh strawberries or cherries and something that's easy to cook over a campfire.

Items you will need

Two sleeping bags that will zip together

Cooking equipment and dishes

Pillows, towels, linens

Romantic foods

Firewood and matches

Tea candles, Mason jars and lanterns
References
Writer Bio
Angela Brown has been a book editor since 1997. She has written for various websites, as well as National Public Radio, Pacifica Radio and more than 20 fiction anthologies. Brown earned a Bachelor of Arts in theater and English from the University of Wisconsin.