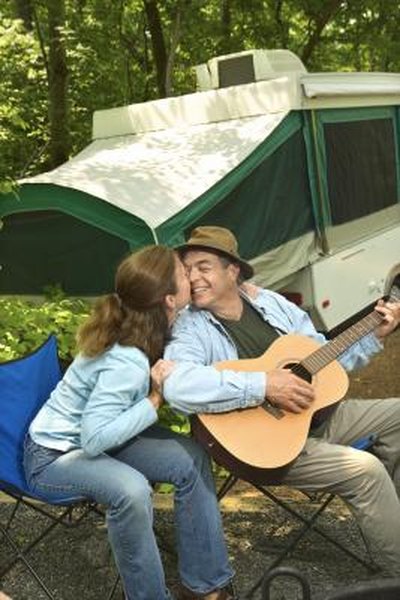 Camping at a national park puts you close to beautiful sights while letting you stay for up to 14 days in peaceful surroundings. Each national park has unique regulations about trailers, and you may find yourself limited in what roads you can take, where you can camp or how you store your food.
Traveling Restrictions
National parks often have curvy mountain roads originally carved out in the 1920s. Check the national park's website for the park where you intend to travel for roads with vehicle length restrictions. In Yosemite, you'll find very specific size limits for more than a half-dozen roads in the park. The limitations for RVs and trailers are different, with trailers not allowed on Mariposa Grove Road, Glacier Point Road and Hetch Hetchy Road. You'll find each national park's road restrictions on the park website under the Plan Your Visit tab and the park map.
Campground Restrictions
The Civilian Conservation Corp built many National Park Service campgrounds during the 1930s when tent camping was common. Campgrounds tuck in under the trees and many provide little room for maneuvering a trailer. Check restrictions for the National Park Service campground where you want to stay. A 27-foot trailer will work in most national park campgrounds, but some have smaller size restrictions. In Olympic National Park, trailers must be 21 feet or shorter in length. Other parks can fit trailers up to 40 or even 50 feet long, such as Canyon de Chelly National Monument and Grand Canyon National Park's Trailer Village.
Restrictions on Trailer Type
Some national park campgrounds with a dense bear population have restrictions on soft-sided trailers like tent trailers or pop-ups. At Yellowstone, Fishing Bridge RV Park near the Yellowstone River limits camping to hard-sided trailers. Be sure to check the park website where you intend to camp before heading out with a tent trailer or pop-up. Some parks allow soft-sided trailers in bear country, but you must keep your food and other scented items outside your trailer suspended from a pole or in bear lockers provided by the park.
What You Do In Your Trailer
Some parks have restrictions regulating conditions inside your trailer. In bear-dense areas, the National Park Service requires you to store food, cooking utensils and food-related items out of sight of any bear that may peek in your window. Don't leave your garbage in your trailer; deposit it in a bear-proof receptacle found inside the park. Scented items such as soap, lotion and food belong inside airtight containers to reduce the temptation for a bear to break through one of your windows. Each campground has rules for generator use, and you'll have to turn the generator off during the campground's quiet hours.
References
Writer Bio
Indulging her passion for wide open spaces and outdoor fitness through the written word on a full-time basis since 2010, author Jodi Thornton-O'Connell takes the mystery out of outdoor skills and guides readers to discover fun ways to physically connect to natural surroundings.