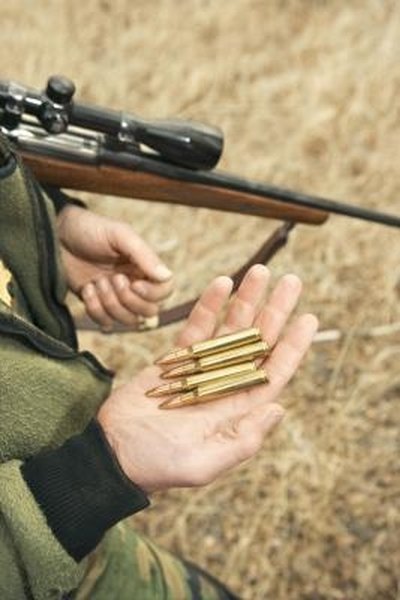 The Ruger model 10-22 is one of the most prolific .22 caliber rimfire rifles in use today. The 10-22 rifle has pre-installed screw holes on the top of the upper receiver specifically for mounting a rifle scope. You have the option of either installing conventional mounts and scope rings, or a scope rail mount upon which you can attach a scope equipped with tactical scope rings. The Ruger 10-22 target tactical model is produced with a rail mount pre-installed.
Items you will need
Small flat-head screwdriver
Remove the four plug screws from the top of the rifle with a small flat-head screwdriver.
Place the mount on the rifle and attach it using the screws included with the mount.
Separate the halves of the scope rings and place the scope in the rings. Reconnect the halves of the rings, but don't completely tighten them. If you are using tactical scope rings, loosen the retention rings at the base of the rings, spread the ring retention brackets, put the rings on the mount with the bracket over the sides of the mount and tighten the retention rings.
Position the scope so you have sufficient eye relief and a clear sight picture, and so the crosshairs appear directly vertical and horizontal. Finish tightening the rings.
Make sure the rifle isn't loaded before installing a scope.
References
Warnings
Make sure the rifle isn't loaded before installing a scope.
Writer Bio
Peter Timm has been writing since 2002 for both print and online publications. Timm earned a Bachelor of Arts from the New York Institute of Technology in 2008 and emerged a technically astute writer.