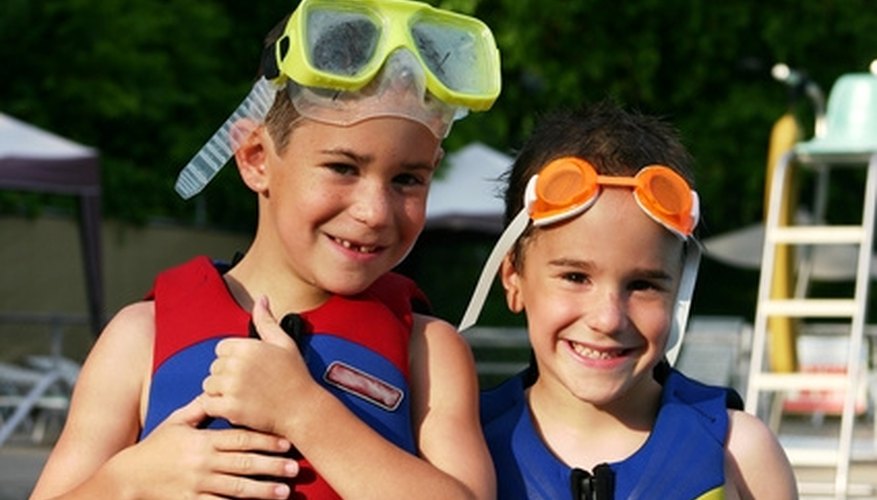 Life jackets are not a new invention. In fact, the first recorded use of a life jacket was in 850 AD by the army of the Assyrian King Assur-nasir-Pal. At that time, the army wore life jackets made of air-filled animal skins. Modern-day life jackets are made of more sophisticated materials.
Nylon
The outer shell of the life jacket is a durable fabric that is designed to withstand extended contact with water. The material typically is a brightly colored nylon or something similar like polyester. To ensure the color of the fabric stays bright and therefore visible, store the life jacket out of the sun. Some manufacturers use either nylon or polyester that is UV reflective.
Nylon Webbing
The straps of the life jacket are made of durable nylon webbing. The webbing is designed not to shrink.
Foam
The interior of the life jacket is made of polyvinyl chloride foam or polyethylene foam. These foams are designed not to absorb water, thus keeping the wearer from sinking.
Metal/Plastic
Life jackets have a variety of fasteners. The two main materials for buckle-type fasteners are metal and heavy-duty plastic. Some life jackets employ zippers made of metal or plastic. Some models of dog life jackets have Velcro fasteners.
References
Writer Bio
Marjorie Gilbert is a freelance writer and published author. An avid researcher, Gilbert has created an Empire gown (circa 1795 to 1805) from scratch, including drafting the gown's patterns by hand.