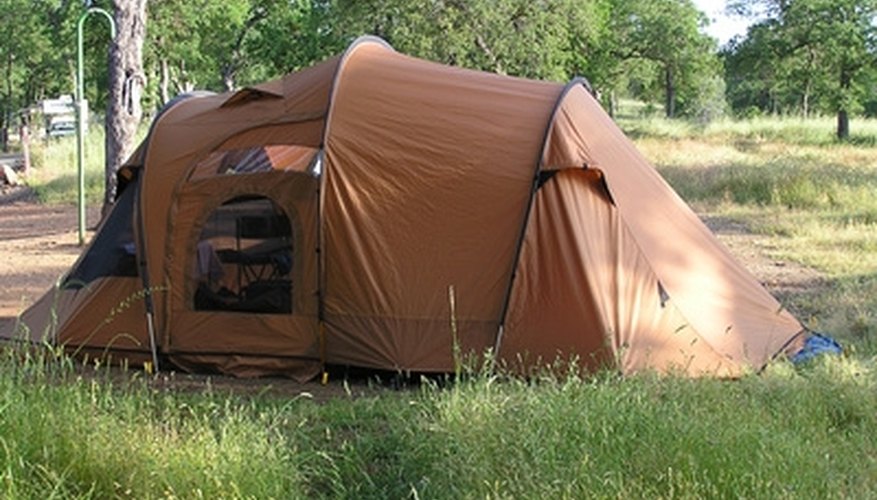 A tent, one of the most basic of human shelters, usually consists of fabric or other materials draped over a supporting structure and anchored in some way to the ground. Used throughout history by various nomadic peoples, tents today usually refer to temporary shelters used for camping or other recreation. They also can be solutions in natural disasters or other emergencies where buildings have become uninhabitable or dangerous.
Tent Covers and Floors
Historically, tent walls and floors were made of waterproofed cotton canvas. With the availability of lighter, synthetic fabrics, canvas is used less and waterproofed nylon is used more, noted for its strength, durability, and weight. Rip-stop nylon, which resists tearing, is another option. Polyester is similar to nylon, but resists sun (UV) damage better. A newer synthetic, UV-Tex 5, is very similar to polyester but with even better UV resistance. Today, tent floors are typically made of polyethylene material, which is both durable and waterproof.
Tent Poles, Stakes and Ropes
Tent poles and stakes are made with two key considerations in mind: strength and weight--a lighter weight being desirable for backpacking uses in particular. Poles for dome or cabin tents are usually made of fiberglass or aluminum, often with an internal nylon cord that assists in shaping and stability. Tent stakes can be made of various metals, such as aluminum, forged steel and titanium, which are useful for harder soils. They can also be made of wood and plastic, suitable for softer or sandier ground. Tent ropes (guylines) are typically made of nylon or polyester/cotton/nylon blends.
Tent Closures and Windows
Tent openings are held together by zippers, usually nylon but often with metal (nickel) pulls. Window and small flap closures can also be secured by Velcro tape. Often, small fabric ties (synthetic or canvas) will also be used to help secure these smaller parts of a tent. Window material is usually a fire-retardant polyester "no-see-um" mosquito netting, which keeps bugs out while letting air to pass. In some larger, commercial tent applications, tent walls may come with clear vinyl windows.
References
Writer Bio
Jim Arnold has been a business and public-relations writer since 1990, working in-house at companies such as Paramount Pictures and Dolby Laboratories. His writing has appeared in "Frontiers," "Daily Variety" and "Prime Health & Fitness." Arnold has a Bachelor of Arts in journalism from Marquette University.