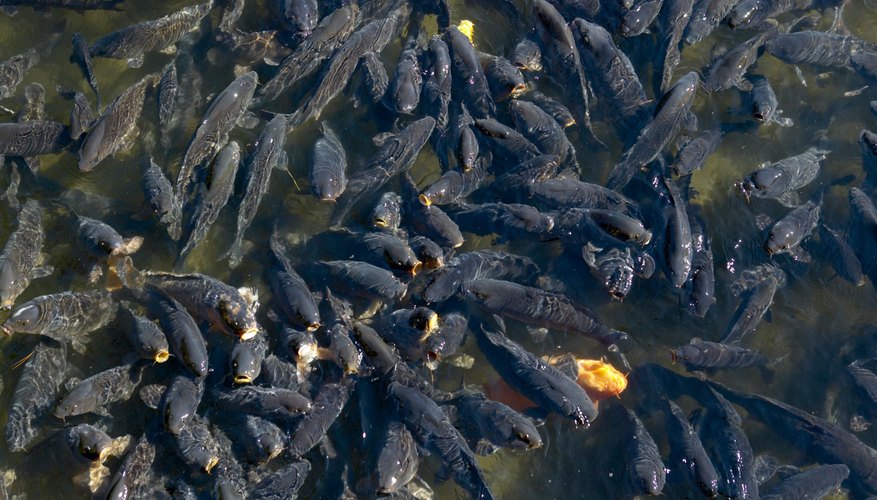 Anglers in the British Isles and Europe have considered carp a game fish for several years. Carp fishing in the United States is enjoying renewed interest by many anglers who appreciate the fight these often large fish present. Carp are typically found feeding along shore lines and banks of ponds, rivers and lakes. Although grass and weeds are a favorite food, fruit flavors often entice carp to bite. Strawberry doughball bait is a favorite bait for some carp anglers.
Items you will need
Stove top

Cooking pot

3 cups water

3 tablespoons strawberry gelatin

2 cups yellow corn meal

1 cup flour

Spoon

Plastic storage bag
Place a cooking pot on a stove top over medium heat. Add 3 cups of water to the pot and bring to a boil.
Add 3 tablespoons of strawberry-flavored gelatin to the boiling water and stir with a spoon to dissolve.
Pour 3 cups of cornmeal and 1 cup of flour slowly into the boiling mixture and stir constantly so the cornmeal and flour will thoroughly incorporate.
Reduce the heat to low and allow the mixture to continue to cook for another 5 minutes. Continue to stir the mixture to prevent scorching on the hot bottom of the pot.
Remove the pot from the stove after 5 minutes and allow the mixture to completely cool. Transfer the strawberry doughball bait to a plastic container or storage bag and refrigerate until ready for use.
Writer Bio
Keith Dooley has a degree in outdoor education and sports management. He has worked as an assistant athletic director, head coach and assistant coach in various sports including football, softball and golf. Dooley has worked for various websites in the past, contributing instructional articles on a wide variety of topics.