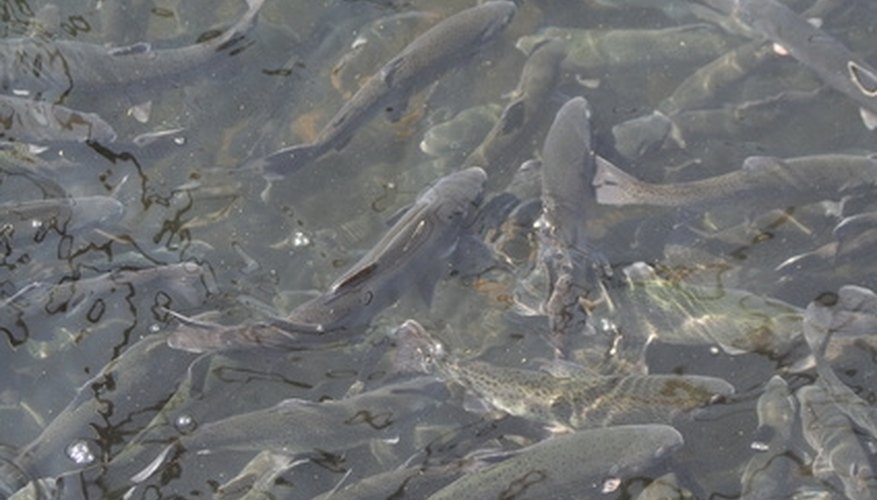 PowerBait is a line of bait commonly available from many sporting goods and tackle shops. This type of bait is designed to attract fish with scents that disperse through the water. Such baits are typically available in nugget or dough form. Dough bait can also be easily made at home with a few common ingredients. By adding some very potent scents to the dough, you can create your own powerful mix.
Items you will need
2 cups water

1 cup all-purpose flour

1 cup cornmeal

1/4 cup brown sugar

1 tablespoon garlic salt

1/4 pound processed block cheese

Anise oil

Glitter

Mixing bowl

Cook pot with water

Stove top

Spoon

Paper towel

Plate

Plastic bag or storage container
Break 1/4 cup of processed cheese into small pieces and place in a microwave-safe bowl. Place the bowl and cheese in a microwave and heat until completely melted.
Add all-purpose flour, garlic salt, cornmeal and brown sugar to the cheese in the mixing bowl. Stir the mixture until the ingredients are thoroughly incorporated. Add a small amount of glitter to the mixture as an additional attractant, if desired.
Place a cook pot filled halfway with water on a stove top. Bring the water to a boil. Pinch off small pieces of the dough and form into small balls about 1/2 inch in size. Place the dough balls in the boiling water for about 2 minutes.
Remove the bait dough from the boil and place on a plate lined with paper towels to drain thoroughly. When the dough balls are drained, put the bait in a plastic bag or container.
Add a few drops of Anise oil to the power dough bait and shake to coat. The Anise oil will add a licorice scent--and extra attractant power--to the bait.
References
Writer Bio
Keith Dooley has a degree in outdoor education and sports management. He has worked as an assistant athletic director, head coach and assistant coach in various sports including football, softball and golf. Dooley has worked for various websites in the past, contributing instructional articles on a wide variety of topics.