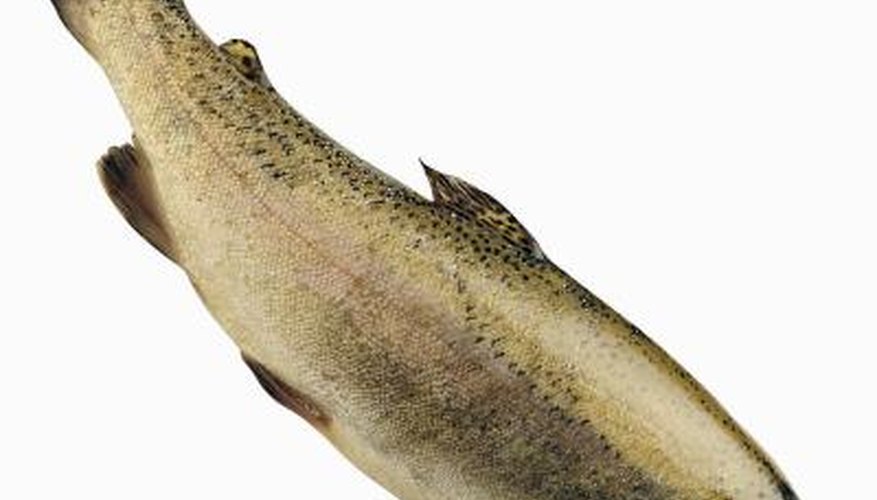 Fishermen are always looking for that next big thing when it comes to baiting their hook. Experimentation is a key aspect when trying to find the right bait that will allow you to catch your limit of trout at your local lake or stream. Live baits work well, but are not always available. Artificial lures can be successful, too, but can be pricey. One trick some trout fishermen employ is making their own bait, such as homemade dough balls, which have been reported to be successful, too. Making your own dough bait, such as garlic corn trout bait, can be done with readily available kitchen pantry items.
Items you will need
Bowls

4 ounces American cheese

15 ounces Canned creamed corn

1 cup flour

1 cup corn meal

1/2 cup sugar

2 tbsp. garlic powder or 1 tbsp. minced garlic

Pot

1 tbsp. salt

Slotted spoon

Paper towel
Step 1
Place 4 oz. of cheese in a microwave-safe bowl with 1 tbsp. of water. Place the bowl into a microwave set on high. Melt the cheese, which could take up to a minute.
Step 2
Add the cheese mixture to large bowl. Add 1 cup of flour, 1 cup of cornmeal, 1/2 cup of sugar, 2 tbsp. of garlic powder (or 1 tbsp. of minced garlic) and a 15 oz. can of creamed corn. Mix well with your hands until a thick dough is formed. Add a small amount of water if the dough is too dry.
Step 3
Fill a large pot with water and add about 1 tbsp. of salt. Turn the burner to high and let the water reach a boiling point.
Step 4
Form dough balls by rolling pieces of the dough between your hands.
Step 5
Add the dough balls to the boiling water and allow them to cook in the boiling water for up to three minutes. Remove the dough balls with a slotted spoon and place them on paper towel to drain. Repeat until all dough balls have been cooked.
References
Writer Bio
Based in Virginia Beach, Mark S. Baker has been working in editorial for more than 20 years. He has served as a writer and editor for publications such as the "Houston Post," "Boca Raton News" and "Interactive Week," among others. Baker also has a culinary arts degree from Johnson & Wales University and has his own catering business.