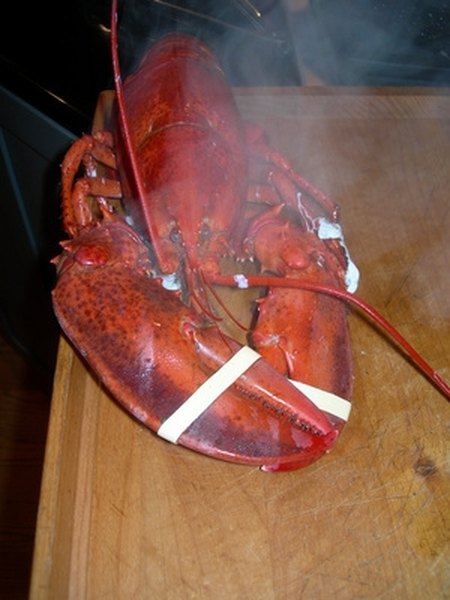 Recreational anglers can find populations of lobster in New Jersey waters. Lobster is low in saturated fat and provides an excellent source of protein. The largest American lobster on record weighed 44 lbs., according to the National Marine Fisheries Service. Try and catch that.
American Lobster
New Jersey marine waters are home to the American lobster or Homarus Americanus. This species can be found in the Northwest Atlantic Ocean from the coastal waters of Maine through North Carolina. They can be found as deep as about 2,300 feet, according to the National Marine Fisheries Service. American lobster catching is most productive inshore from Maine through New Jersey in waters with depths of about 131 feet.
Lobster Trap
According to the Garden State Seafood Association, the lobster fishery in the state is mostly a trap fishery. Recreational lobster anglers sometimes use a basic lobster pot for trapping these crustaceans. The trap has either one or two entries into a section that holds the bait. Once the lobster goes in, it feeds on the bait and it gets trapped. The traps are typically constructed of coated wire mesh. Baits like chunks of oily fish such as herring or menhaden are effective. Using a trap for lobster fishing requires a license in the state.
Possession Limits
The daily possession limit in New Jersey for lobsters is 6. The minimum length is 3.375 inches and the maximum length is 5.25 inches. Measurements should be taken from the lobster's eye socket rear along a line parallel to the center of its body shell up to the rear of its body shell, according to New Jersey's saltwater fishing regulations.
Restrictions
Restrictions apply for harvesting lobsters in New Jersey. You are allowed to take lobsters but not in parts either at sea or land. Taking lobster with eggs attached or from which eggs have been removed are prohibited. You are also not allowed to take any female lobster with a v-notched tail. (see Resources for illustration). Lobster fishing methods with penetrating devices like gaffs, spears or gigs are prohibited.
Fishing License
New Jersey does not require a license for recreational lobster fishing in the state. However a license is required if you intend to use ports or traps when capturing lobsters. Generally, you do not need a fishing license for recreational surf casting, deep sea or bay fishing, but a license is required for clamming, crabbing and commercial saltwater fishing, according to the New Jersey Division of Fish, Game & Wildlife.
References
Writer Bio
Rona Aquino began writing professionally in 2008. As an avid marathon runner and outdoor enthusiast, she writes on topics of running, fitness and outdoor recreation for various publications. Aquino holds a Bachelor of Arts in communications and English from the University of Maryland College Park.