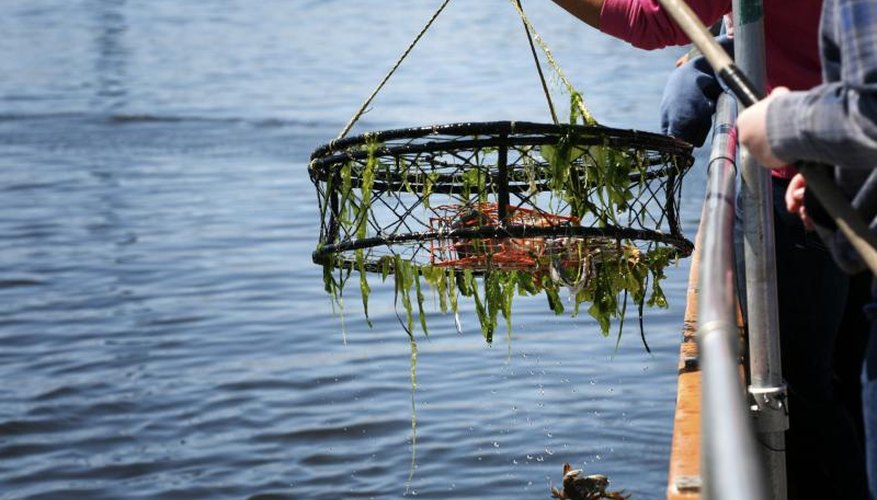 The site and taste of freshly caught crabs on dinner plates is a treat for seafood lovers in Washington State every winter. The lush and fertile waters of Puget Sound and off the Pacific Coast, produce millions of Dungeness crabs, the most commonly caught variety of crab in the area, every year. Along with technical knowledge, such as how to operate bailed pots, crabbers must be familiar with crab size requirements and be able to tell a male crab from a female.
Types of Crab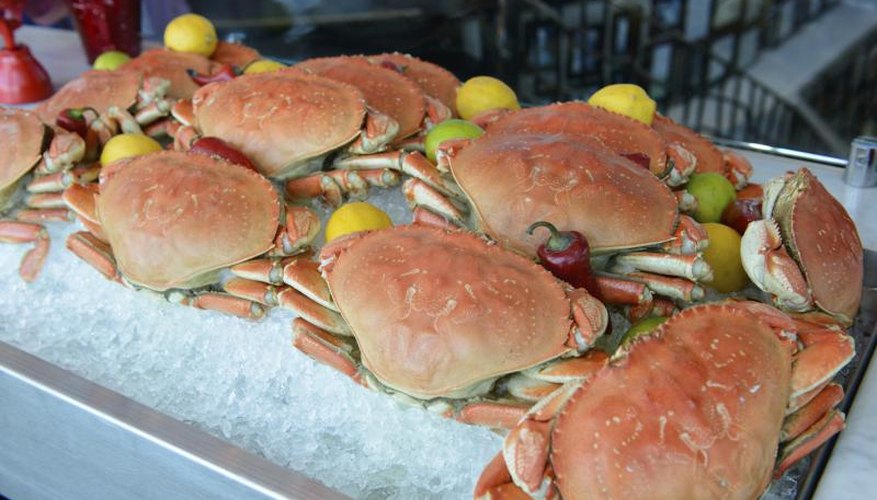 Kenishirotie/iStock/Getty Images
Five types of crab are most commonly found in the waters of Puget Sound and along the Pacific Coast of Washington: Dungeness, red rock, box, king and shore. Dungeness crab are most abundant in Seattle, Hood Canal on the Kitsap Peninsula and along the Pacific Coast. Red Rock are smaller than Dungeness, although many believe the meat is flavorful. Box and King crab are deep-water species typically caught by divers off the coast of Washington. Shore crabs are most often discovered in tide pools and are small in size.
Licensing Requirements
Everyone over the age of 14 planning to fish and keep crab recreationally must have a valid fishing license issued by the Washington Department of Fish and Wildlife (WDFW). Single-day or annual licenses are available across the state. Sport crabbers of all ages must have a crab license endorsement and carry and complete Catch Record Cards (CRCs) for Dungeness crabs caught and kept. CRCs must be completed even if no crab were caught, and fines are assessed for those who fail to report their harvest. Two different CRCs are used for summer and winter harvests.
Harvest Techniques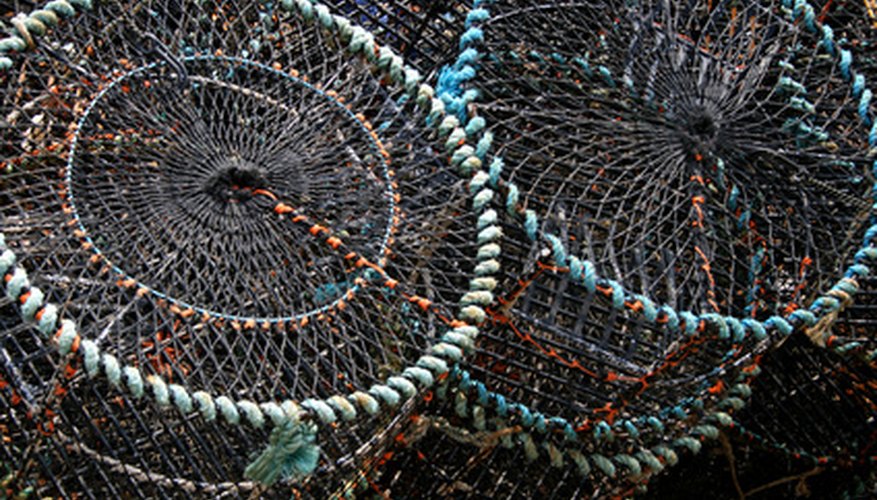 round crab nets image by Christopher Nolan from Fotolia.com
Sport crabbers most commonly use crab pots to catch Dungeness crab in the Puget Sound region. Crab pots are square iron frames surrounded with iron mesh and featuring tunnels for the crabs to enter and a trigger device to stop them from escaping. Buoys are attached and clearly labeled to indicate ownership and reveal their presence to other crabbers. Other techniques include ring nets, short or long-handled dip nets or using a hook and line, the least commonly used method.
Bait
Most sport crabbers have favorite bait that they use in their crab pots. According to the Washington Department of Fish and Wildlife, fish carcasses, clams and squid are the most effective types of bait to use when crabbing, however, chicken and turkey can be used as a substitution and are usually readily available. Bait is adhered to the inside of the crab pot with a wire attachment. Water should be able to readily flow around the bait to carry off its scent. Location is key; strategically position the bait so the crab has to enter the trap to feed.
Marine Areas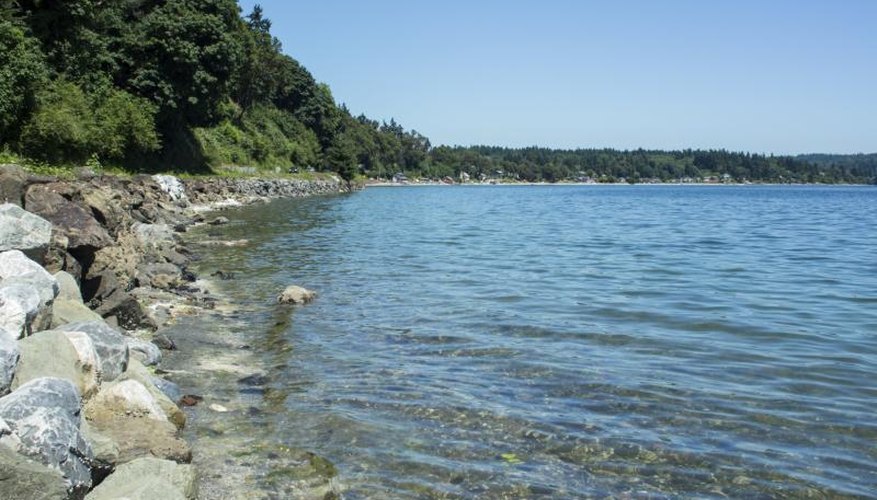 Morgain Bailey/iStock/Getty Images
Open seasons for crab harvest are determined by WDFW and vary by marine area. A total of 13 marine areas are identified for Dungeness and red rock crab fishing and range from the southwestern corner of the state where the Columbia River meets Puget Sound to the northernmost area near the Canadian border and Bellingham. WDFW specifies annual opening and closing dates for crab fishing as well as size requirements and daily limits. Only male crabs measuring at least 6 1/4 inches are allowed to be kept; female and smaller crabs must be set free. Male crabs can be identified by their narrow abdominal flap.
References
Writer Bio
Michelle Hornaday lives in Edmonds, Washington and holds a Bachelor of Arts degree in English from Washington State University and a Master of Education from Northern Arizona University. She is currently a freelance writer for various websites.