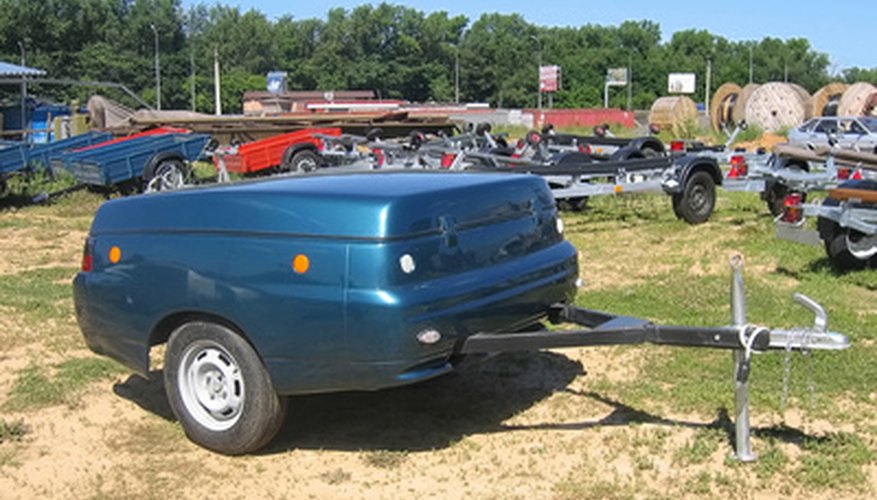 Whether you use a trailer to tow a boat or to haul yard waste or merchandise, you should know the state laws and regulations that govern towing trailers in Florida. For example, all trailers must have lights, and trailers have to fall within size and weight limitations. Following these regulations can help you tow your trailer safely and avoid being ticketed.
Size and Weight
Florida requires that trailers being towed fall within the following size and weight restrictions:
Maximum height: 13 1/2 feet. Maximum width: 8 1/2 feet. Maximum combined length of towing vehicle and trailer or towed vehicle: 60 feet. Maximum trailer length: 48 feet. Maximum trailer length without separate brakes for towed vehicle: 3000 pounds. If the towed vehicle or trailer exceeds 3000 pounds, it must have its own brakes, connected to the towing vehicle's controls. Axle weight limit: 20,000 pounds per axle.
Towing Restrictions
The maximum speed limit for a vehicle towing a trailer or another vehicle is 65 miles per hour. Some states allow the towing of more than one vehicle or trailer in a train, but this is not allowed in Florida. You may only tow one trailer or vehicle. Insurance for the towed vehicle or trailer is also required.
Safety Regulations
Florida law requires several safety lights and devices on towed trailers. Required safety devices include safety chains to connect the towing vehicle and the towed vehicle in case of hitch failure. Your trailer or towed vehicle also must have stop lights, tail lights, license plate lights, clearance lights and working turn signals. If you are towing a vehicle that weighs more than 3,000 pounds, the law requires breakaway brakes to stop the towed vehicle in case of unplanned disconnection.
Other Regulations
Passengers riding in a pickup camper is allowed in Florida. Flares, fire extinguishers, and signs must be on hand in case of breakdown. A Florida class D license or equivalent is required for the driver of the towing vehicle.
References
Writer Bio
Christian Petersen has been writing professionally since 2010, publishing for several online media outlets. He has been an amateur writer for many years writing short fiction and entertainment reviews. Petersen attended Grand Valley State University and has over 20 years of experience in the restaurant and consulting industries, serving as an executive chef and concept consultant.