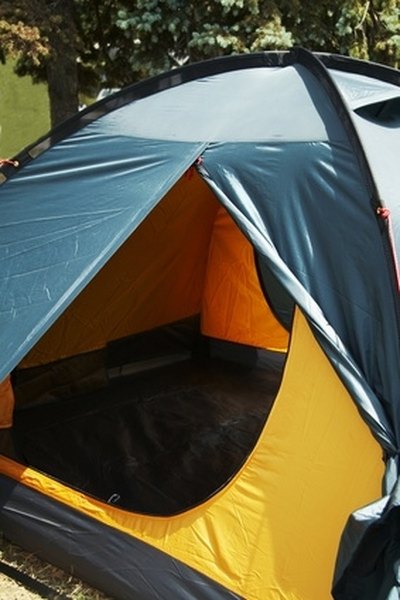 Kampgrounds of America (KOA) was started in 1962 in Billings, Montana as a service to travelers along the Yellowstone River who were journeying to the Seattle World's Fair. As of 2010, more than 450 KOA campgrounds exist throughout North America. The campgrounds boast recreational vehicle (RV), tent and camper spaces, as well as cabins. Because each KOA campground exists under independent ownership, the owners may set forth rules specific to their campground. The company outlines a few core regulations that each campground guest must comply with, however.
Pets
Cats and dogs may typically accompany campground guests; however, some restrictions do apply. Some facilities with cabins do not allow pets. Also, some campgrounds may designate only certain spaces as pet-friendly. Certain breeds may additionally be restricted from the campground if insurance providers have designated them as historically aggressive. Owners with dogs of any breed that become hostile will be asked to leave. Dogs must remain on leashes of least 6 feet when outside and cannot remain unattended. KOA requests that owners bring mannered dogs and have common courtesy toward other campers.
Cancellation Policy
KOA requires a credit card deposit equal to the first night's rental charge to guarantee a reservation. All cancellations made within the designated deadlines per type of unit rental cost a $10 cancellation fee. RV and tent campers must notify the campground before 4 p.m. two days prior to arrival. Cabin cancellations must be made one week prior to arrival. Monthly RV reservation cancellations require a 30-day cancellation notice. Cancellations between eight and 30 days prior to arrival forfeit half the deposit, while those made within a week of arrival will forfeit the deposit.
Campsite Rules
Check-in on the day of reservation may begin at 1 p.m. while check-out must occur before 11 a.m. on the day of departure. Quiet hours range from 10 p.m. to 7 a.m. Children under 18 must return to their site before 9 p.m. Only one camping unit and one vehicle displaying a KOA tag can remain on the site at all times. Up to six guests may occupy a space, including a guest's visitors. Visitors must register at the main office and become subject to dismissal if they have not registered. Also, trash may not remain on-site past 7 p.m.
Campground Rules
Guests may not climb trees in the campground for their safety. All-terrain vehicles, go-carts or scooters are not allowed in the campground. Alcoholic beverages must remain out of sight. Additionally, firearms, fireworks and campfires on the ground are not permitted.
References
Writer Bio
Stephanie Gaughen holds a bachelor's degree in news-editorial journalism from the University of Nebraska at Kearney. She has worked as a photojournalist and copy editor at two regional daily newspapers, and as a corporate communications writer.