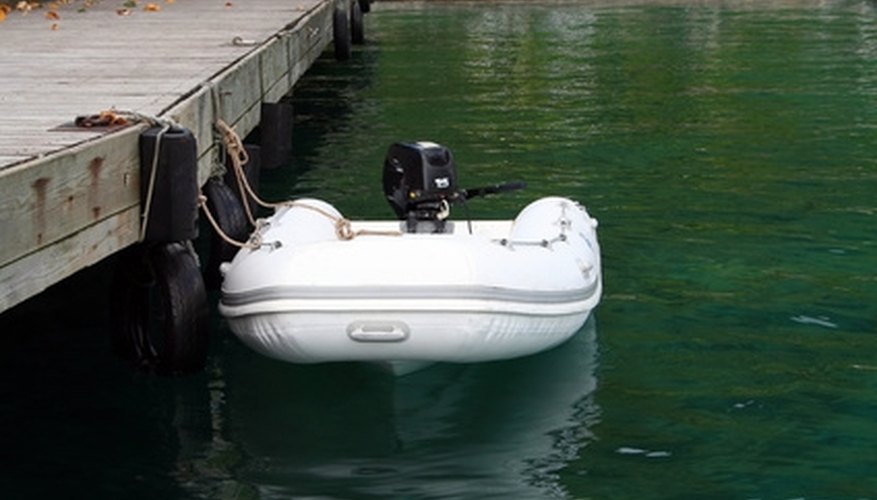 The Johnson Motor company manufactured outboard boat engines as early as 1923. After a series of buyouts, in 2001 Johnson was sold to the Canadian company, Bombardier Recreational Products (BRP). Although BRP still sells parts and servicing for existing Johnson outboard engines, as of 2010, new Johnson models were not being manufactured. This article refers to the Johnson 4-horsepower, four-stroke outboard engine. The 4-horsepower model was designed for recreational use, for smaller fishing boats or dinghies.
Weight & Size
The Johnson 4-horsepower, four-stroke outboard engine weighs approximately 55 pounds, with a displacement of 8.4 cubic inches or 138 cubic centimeters. The transom height, which is the boat transom height required to support the engine, is 15 inches. The propeller is similarly-sized on several Johnson models, at 7 1/2 by 6 1/2 inches.
Engine & Horsepower
The engine on this outboard is a four-stroke one-cylinder inline engine, which means that it runs through four different steps to complete one cycle, including the intake stroke, compression stroke, power stroke and exhaust stroke. The engine has an operating range of 4,000 to 5,000 rpm. Idling rpm is around 1,300. The starting system for the engine is a manual start, including a pulley rope. The engine is water cooled via the water intake valve.
Fuel & Oil Capacity
The inside fuel tank holds 0.4 gallons of unleaded gasoline, with a recommended minimum 87 grade. A portable fuel tank is only offered with the higher-horsepower models. The outboard takes a four-stroke synthetic oil blend, with an oil tank capacity of 23.7 fluid ounces.
Gears & Steering
Gears include forward, backward and neutral, with the shift lever on the side of the motor. The steering mechanism is a tiller that can be maneuvered 360 degrees. The vibration on the tiller when the outboard is in operation is under 2.5 meters per second squared.
Safety Features
The Johnson outboard has an emergency stop switch located on the steering handle, with an attached spring cord that the operator can attach to a piece of clothing or life jacket. This would trigger the emergency stop switch should the operator fall or be thrown from the vehicle.
References
Writer Bio
Anne Redler is a writer who has worked in research and publishing since 1996. She has published work on the topics of macroeconomics and financial markets, including articles in the "Financial Times" and "The Wall Street Journal." Redler holds a Bachelor of Arts in economics from Wilfrid Laurier University and a Master of Business Administration from Boston University.