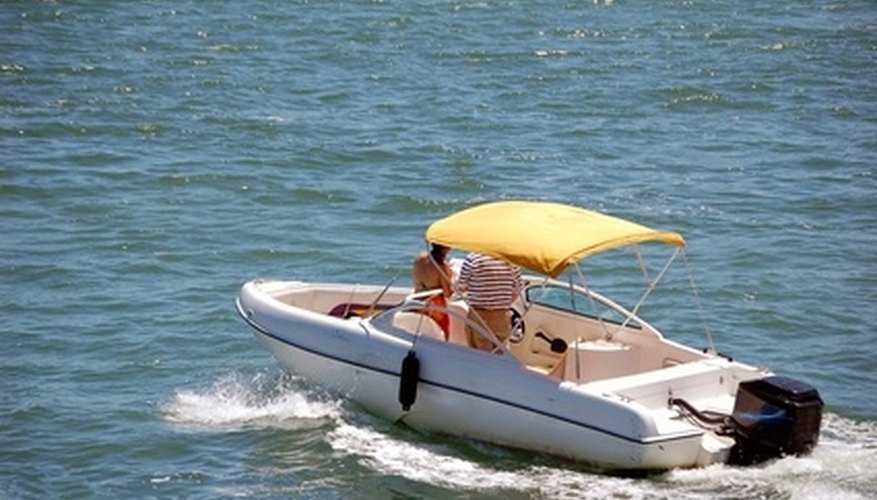 MerCruisers are sterndrive engines produced by Mercury Marine. A sterndrive is also known as an inboard/outboard drive, because it combines features of both inboard and outboard motors. When MerCruisers were introduced in 1961, they featured the first sterndrive that offered more than 100 horsepower. Today, MerCruisers are used on both racing and leisure boats. The MerCruiser 4.3 Liter MPI (multi-point injection) engine can be used in anything from a pontoon to a cruiser.
Engine Specifications
The MerCruiser 4.3L has a maximum power capability of 220 HP. This engine is a V-6, and operates at between 4,400 and 4,800 revolutions per minute at wide-open throttle (WOT). The cylinder bore has a diameter of 4 inches and piston stroke length of 3.48 inches. This engine's compression ratio is 9.4-to-1. The engine's alternator has a power output of 65 amps and 917 watts. The recommended fuel is 87 octane, and the recommended oil is SAE 20W-40 full-synthetic engine oil.
Other Specifications
The MerCruiser 4.3L has a multi-point fuel injection system. The EMC 555 fuel and ignition system features platinum-tipped spark plugs for durability. This engine has a dry joint exhaust system, which prevents water from getting into engine. It has a two-piece, long runner intake manifold system, as well as a serpentine belt accessory drive system.
Dimensions and Weight
The MerCruiser 4.3L MPI is 28 inches long, 30 inches wide, and 22 inches tall. It has a dry weight of 865 pounds.
Writer Bio
Andrew Cohen is an aspiring writer from New Jersey who focuses on international relations and political theory. He has been writing seriously for over five years. His bachelor's degree is in political science with a minor in history.