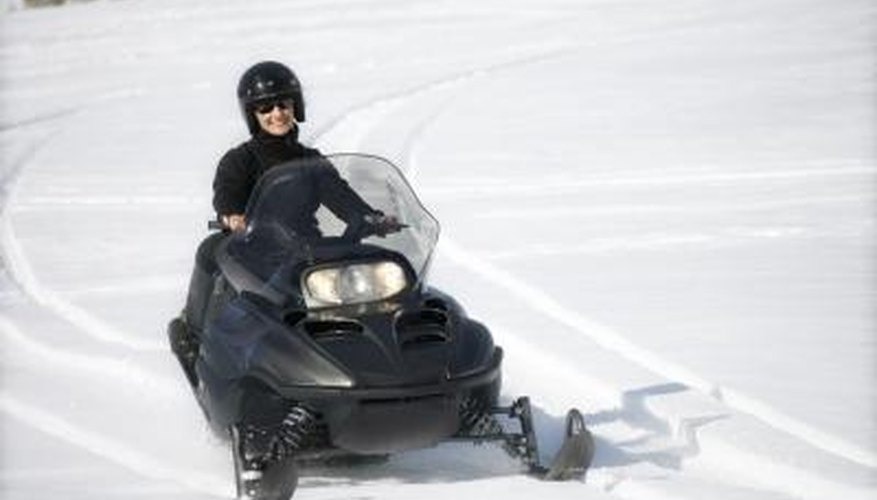 The 1997 model Polaris XC (Cross Country) 600 is a discontinued snowmobile made by Polaris Industries, a leading recreational vehicle manufacturer. The 1997 XC 600 was one of the earlier models of the snowmobile preceding the modern 2011 600 IQ and other models. Information about the XC 600 is still available if you are considering a purchase or are making repairs.
Physical Dimensions and Capacities
The XC 600 is 46 inches in height, 46.5 inches in width and 109 inches in length. It weighs 486 pounds. It is built to accommodate only one rider. It holds 11.8 gallons of gasoline and 3 quarts of both engine oil and coolant. It comes with a liquid-cooled hydraulic disc brake system. The track length is 121 inches and the track width is 15 inches.
Engine and Suspension Details
The 1997 XC 600 has a wedge-type chassis and a 2-cylinder engine with an engine displacement of 597 cc. The intake is a piston port type with a three-into-one exhaust and 38mm roundslide carburetor. Lastly, the snowmobile has an Xtra-10 front and rear suspension. The engine is capable of an estimated 97 horsepower.
Features and Accessories
The tachometer, speedometer, parking brake and low oil indicator are all standard on the XC 600, as are the halogen headlights and brake/gas indicator lights. The XC 600 also has a thumb and hand warmer built in.
Crank Failures
Many of the 1997 XC 600 high-output monoblock snowmobiles from the first production line of the year were built with the same engines as the 1996 models. This was problematic because the 1996 models had had crank problems. The crank system on these vehicles tended to malfunction after 1500 miles. This problem was fixed by mid-production that year.
References
Writer Bio
Jeremy Cato is a writer from Atlanta who graduated with Phi Beta Kappa honors and an English degree from Morehouse College. An avid artist and hobbyist, he began professionally writing in 2011, specializing in crafts-related articles for various websites.