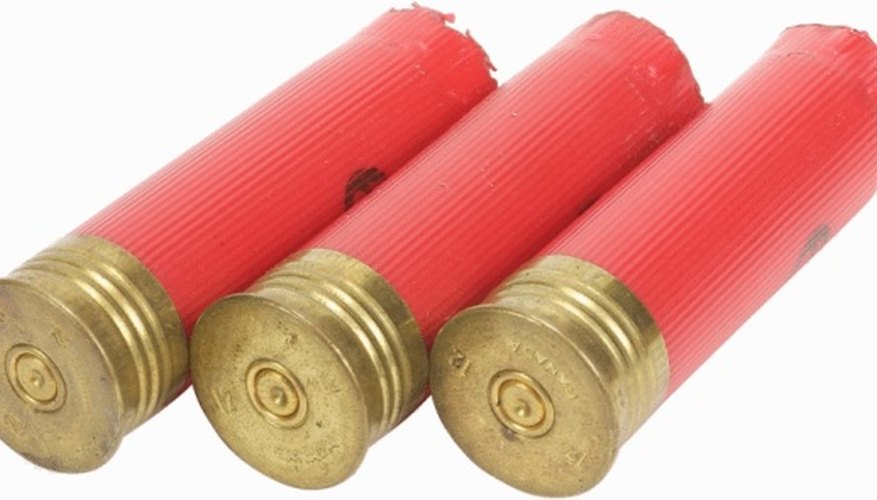 Remington released its model 58 shotgun in 1956. It was the first first gas operated, autoloading shotgun featuring the recoil-action created by John Browning. The shotgun was discontinued in 1963. Pre-owned model 58 shotguns are often available in 12, 16, and 20 gauges. The magazine tube has a maximum capacity of three shells. The Model 58 contains Remington's "Power-Matic" system that curtails recoil. Around 270,000 were produced.
Unload the shotgun and clear the breach. Make certain no cartridges are in the gun.

Engage the safety above the trigger. Slide the safety latch over the red bar printed on the firearm.. When the safety is engaged the red band should be obscured.

Unscrew the magazine cap. Slide the foreend from the upper receiver.

Push out the trigger-plate pins located above the trigger guard. Lift the assembly and pull it off the upper receiver.

Pull out the operating handle located directly inside the bolt housing.

Press down the shell latch in the upper receiver. Pull the breech and bolt assembly toward the front of the firearm until it comes free. Be sure the breech and bolt are attached to each other when you pull them from the receiver.

Always perform maintenance on an unloaded firearm.
References
Writer Bio
Joseph Gross started writing in 2007. He wrote marketing content for Integrated Business Services, Inc., a medical marketing firm. Gross holds a Bachelor of Arts in English and is pursuing a Master of Arts in English studies from DePaul University.