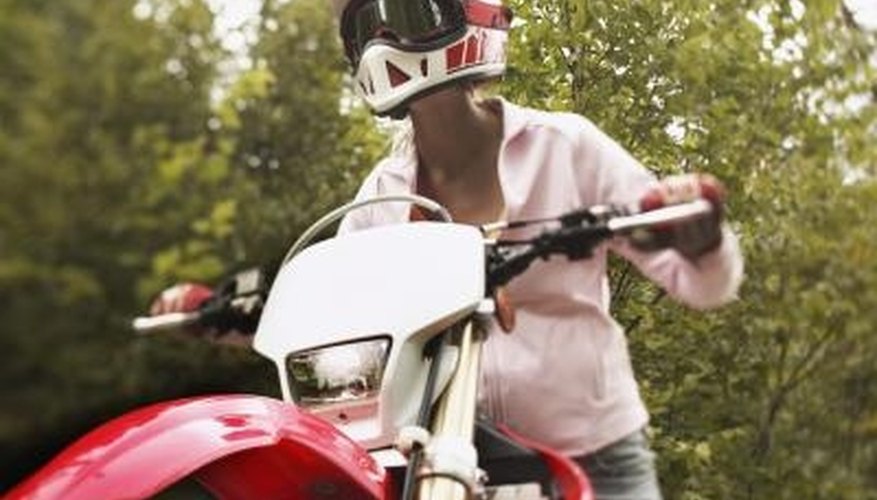 The Honda XL500R was an enduro, off-road motorcycle of about 500 cc that could also be used as a street bike. The major drawback to using the bike on the road was the enduro-style seat height, at about 35 inches. It was built in 1981 and 1982 only.
Engine
The XL500R had 497 cubic centimeters or 30.33 cubic inches of engine displacement (the volume refers to the volume of the cylinders swept by the pistons). The engine had a single cylinder, with four valves, and was four-stroke (the pistons took four strokes to complete an engine cycle). It was air-cooled and had a Keihin carburetor. The fuel was controlled by an overhead cam system that drove the valves directly from the camshaft without using push-rods.
The bore and stroke of the engine was 3.5 by 3.1 inches. Bore is the diameter of the engine cylinder opening and stroke is the total distance the piston travels up and down. The engine had a compression ratio of 8.6 to one. Compression ratio is the ratio of the volume between the piston and cylinder head before and after a compression stroke.
The XL500R engine produced 27 horsepower at 5,500 revolutions per minute.
Transmission, Brakes and Suspension
The transmission of the XL500R used a chain final drive system (the back wheels were turned by a chain driven by the engine) with five manual gears. The brakes were drum brakes in both front and rear wheels. (Drum brakes are located inside the wheel and expand to slow down the wheel through friction).
The XL500R had front forks with coil springs for suspension and the rear of the bike had a Honda Pro-link suspension (a swingarm with a single shock, like the Yamaha Monoshock).
Dimensions and Electrics
The front tire was 3.00-23 and the rear tire was 4.60-18 size. The front wheel was 21 inches in diameter and the rear wheel was 17 inches. The bike weighed 335.1 pounds and had a 2.77-gallon fuel capacity. The bike had a top speed of 83 miles per hour and could accelerate from zero to 60 miles per hour in 7.2 seconds.
The XL500R had a kickstart, a 12-volt electrical system and a capacitor discharge ignition system. The bike in 1982 came in red only (frame, fenders, gas tank and side covers) with black seats, engine and fork boots.
References
Writer Bio
Jillian O'Keeffe has been a freelance writer since 2009. Her work appears in regional Irish newspapers including "The Connacht Tribune" and the "Sentinel." O'Keeffe has a Master of Arts in journalism from the National University of Ireland, Galway and a Bachelor of Science in microbiology from University College Cork.